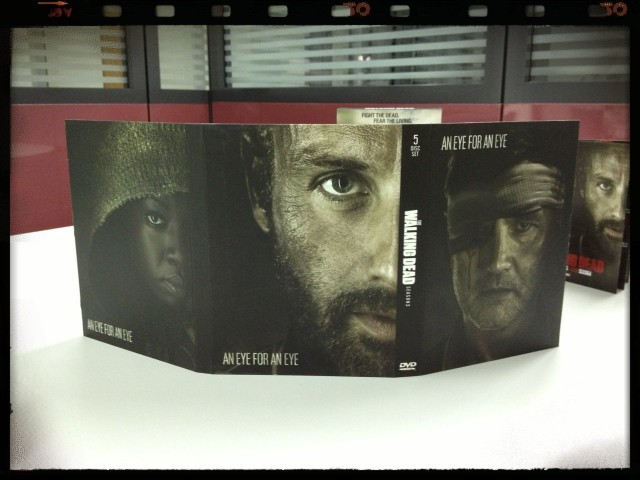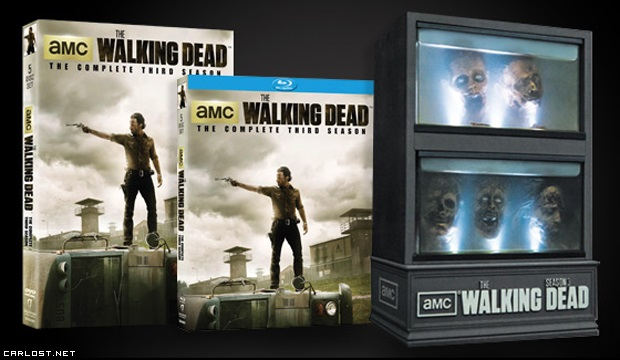 El 27 de Agosto salió a la venta la tercera temporada de The Walking Dead en ediciones estándar de Blu-ray™ y DVD, pero para aquellos más fanáticos de la serie, McFarlane Toys ha creado también una edición limitada que incluye el acuario de cabezas zombi del Gobernador. Además (en Estados Unidos al menos) hay diferentes versiones de packs en los que podemos encontrar incluso el CD con el soundtrack de la serie.
Si aún no te decides por qué versión comprar, aquí tenemos imágenes del unboxing de cada versión.

Precios y Contenidos de las distintas versiones:
Si bien estos fueron los precios informados por Anchor Bay, previos al lanzamiento, en las tiendas se pueden encontrar las diferentes versiones, incluso a menos de la mitad del precio indicado en la imagen.
Como podemos ver, todas las versiones incluyen subtitulos en español,así que si optamos por comprarlo por internet al menos ya sabemos que las versiones que se comercializan en Estados Unidos nos servirán.

El pack de la tercera temporada trae 5 discos en cada versión, y contiene los 16 episodios de la temporada.
Al igual que las ediciones previas, THE WALKING DEAD: LA TERCERA TEMPORADA COMPLETA viene cargado de material extra que incluye exclusivos detrás de escena, audio comentarios, escenas borradas y más.
A continuación comienzo la revisión de las diferentes versiones que encontré a la venta.
Si alguien tiene algún dato de precio en sus países, puede dejarlo en los comentarios, y con gusto lo agrego a este post.
THE WALKING DEAD TERCERA TEMPORADA COMPLETA - BLU-RAY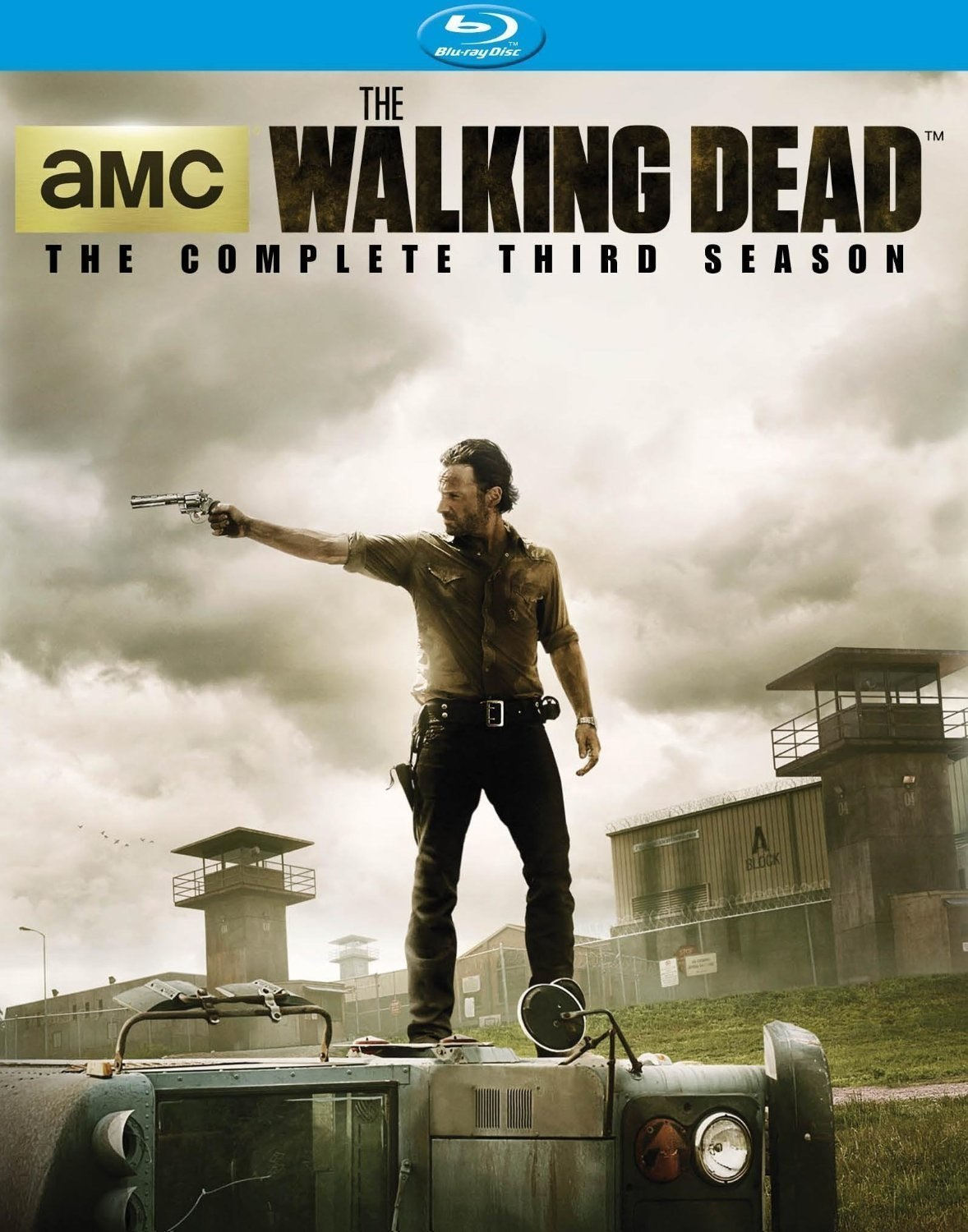 El Blu-ray lo podemos encontrar a 37 dólares en Amazon http://www.amazon.com/The-Walking-Dead-Complete-Blu-ray/dp/B009NH6JRE
Los extras que podemos encontrar en el Blu-ray (y en todas las otras versiones oficiales de DVD/Blu-Ray) son los siguientes:
Featurettes: Raising Son - Evil Eye - Gone But Not Forgotten - Heart of a Warrior - Michonne vs The Governor - Safety Behind Bars - Making The Dead - Guts and Glory.
Audio Comentarios: Episodios 3x04, 3x05, 3x08, 3x09 y 3x15.
Escenas Borradas: Walk With Me, Say The Word, Hounded, Home, I Ain't a Judas, y Clear.
Y aquí hay un video de cómo luce el Blu-ray.

PD: Este video no es del Blu-Ray simple, sino del comprado en Walmart, por lo que trae un CD de regalo. A continuación los detalles de esa versión.
THE WALKING DEAD TERCERA TEMPORADA COMPLETA - BLU-RAY + CD SOUNDTRACK (WALMART)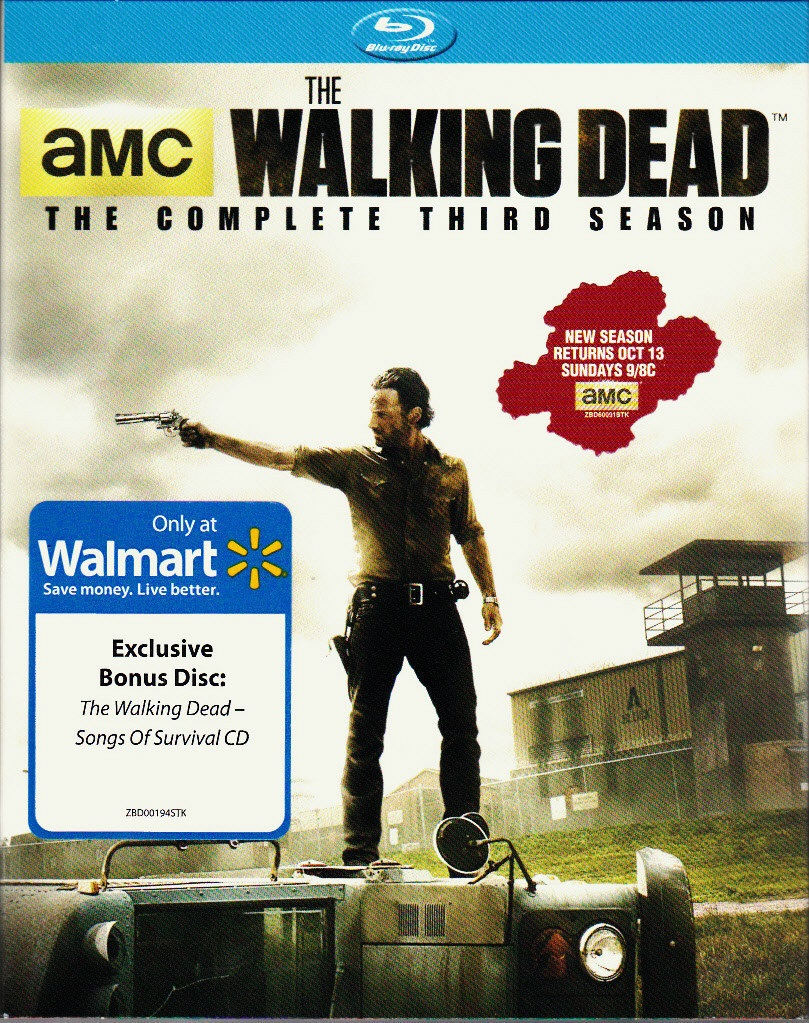 El DVD/Blu-ray que se vende en las tiendas Walmart trae de regalo el CD con el seundo volumne del soundtrack de la serie, titulado: The Walking Dead AMC Original Soundtrack – Vol. 2. "Sounds of Survival". http://tinyurl.com/TWDS3Walmart
La colección incluye música original grabada para la serie por artistas como Youngblood Hawk, Lisa Marie Presley, Band of Skulls, Timber Timbre & Feist y más.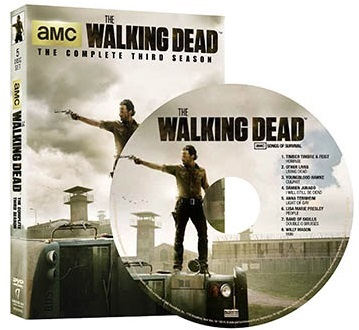 Tracklist:
1. Timber Timbre & Feist – "Homage"
2. Other Lives – "Living Dead"
3. Youngblood Hawke – "Culprit"
4. Damien Jurado – "I Will Still Be Dead"
5. Anna Ternheim – "Light of Day"
6. Lisa Marie Presley – "People"
7. Band of Skulls – "Double O Bruises"
8. Willy Mason – "Run"
THE WALKING DEAD TERCERA TEMPORADA COMPLETA - BLU-RAY EDICION STEELBOOK (TARGET)
Otra de las versiones es la que se vende en Target, y es el Blu-ray Steelbook.
Al igual que las otras versiones contiene 5 discos, con los mismos contenidos, pero con un diseño diferente, más compacto. Su precio es de 38 dólares http://tinyurl.com/TWDS3Steelbook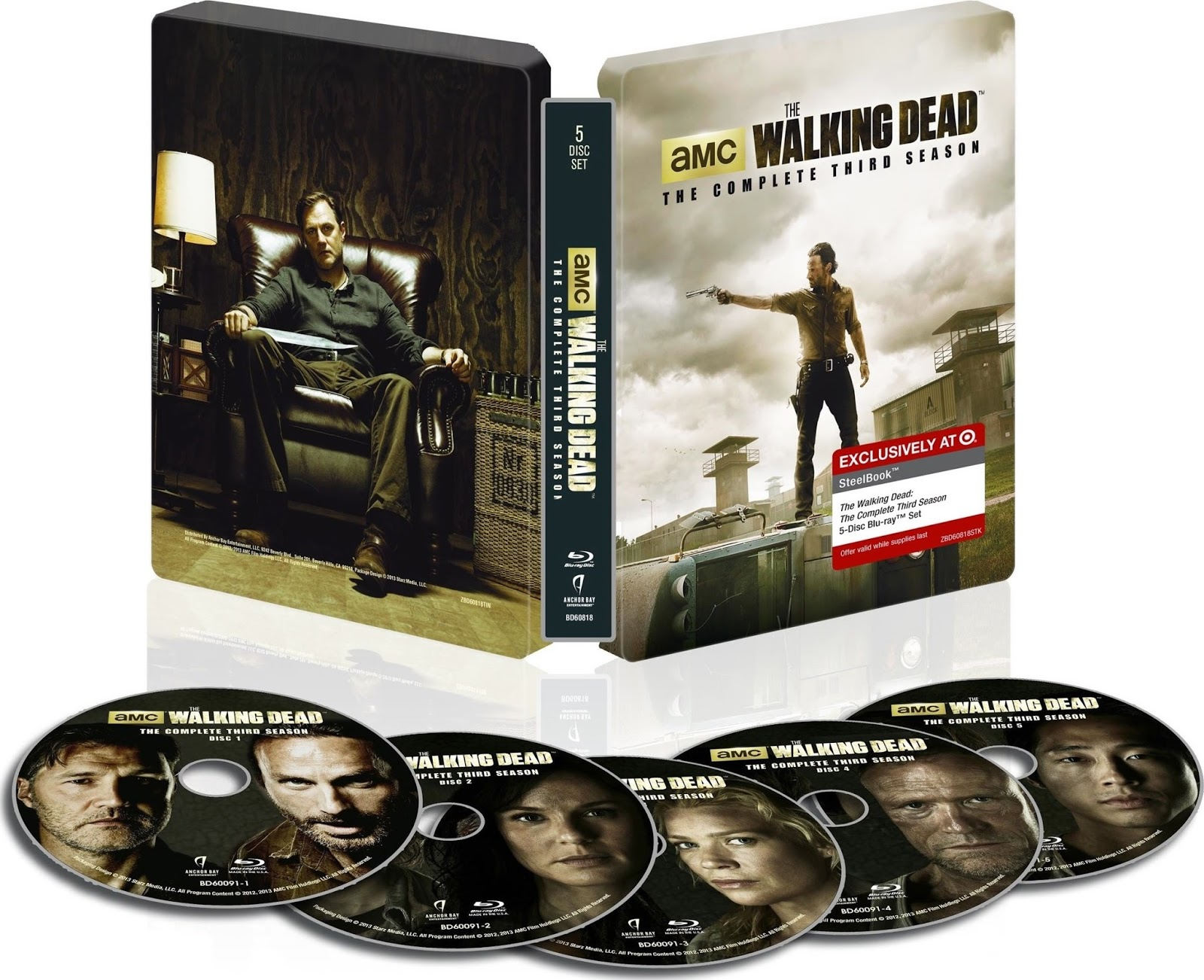 THE WALKING DEAD TERCERA TEMPORADA COMPLETA - BLU-RAY + DVD COMBO PACK (BEST BUY)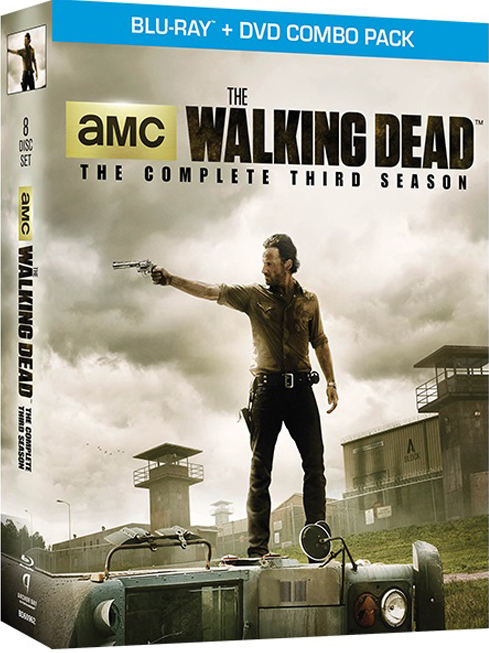 En BestBuy se puede conseguir por sólo 40 dólares un pack que incluye tanto el DVD como el Blu-Ray.
THE WALKING DEAD TERCERA TEMPORADA COMPLETA - BLU-RAY EDICION ESPECIAL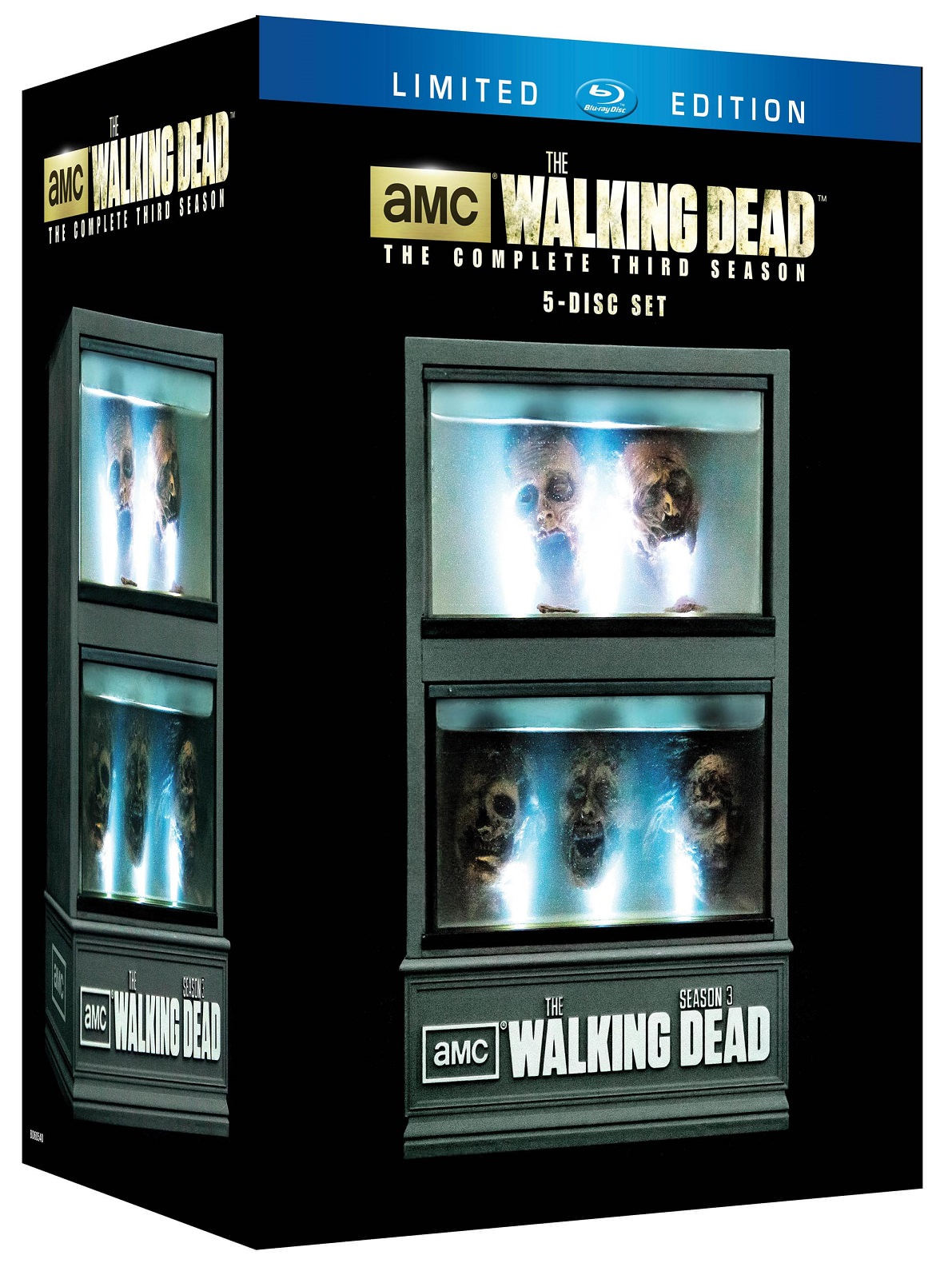 Y por supuesto, el pack más especial es la edición limitada que además del Blu-ray de la tercera temporada, incluye un pequeño acuario de cabezas zombis como el que tenía el Gobernador.
Y aquí tenemos algunos videos del unboxing de este pack:
THE WALKING DEAD TERCERA TEMPORADA COMPLETA - DVD VERSION NO OFICIAL
Buscando en Amazon me encontré con esta otra versión, que si bien no es oficial, me llamó la atención por la buena presentación que tiene.
Esta hecha en Tailandia, y sólo trae subtítulos en inglés y tailandés. No español 🙁 además sólo incluye los capítulos (No trae los extras)
Pero bueno, por si a alguien le gusta, aquí tienen el link:
Precio: 46 USD. http://www.amazon.com/gp/product/B00E2540AA/
Basado en las populares novelas gráficas de Robert Kirkman, THE WALKING DEAD: LA TERCERA TEMPORADA COMPLETA sigue logrando récords de audiencia.
La tercera temporada sigue al grupo de sobrevivientes liderados por el oficial de policía Rick Grimes (Andrew Lincoln), mientras se refugian en una prisión y tratan de establecer un campamento permanente.
Pero mientras que la invasión zombi es un peligro permanente, también deben combatir a los vivos, no sólo aquellos prisioneros abandonados, sino que también al sádico 'Gobernador' (David Morrissey) y sus seguidores.
Nuevos personajes introducidos esta temporada incluyen a Danai Gurira como "Michonne," junto a sus dos "mascotas zombi", y Dallas Roberts como Milton, el ayudante del Gobernador, así como también el retorno de Merle Dixon (Michael Rooker).
THE WALKING DEAD: LA TERCERA TEMPORADA COMPLETA incluye también en el elenco a Laurie Holden, Norman Reedus, Steven Yeun, Lauren Cohan, IronE Singleton, Chandler Riggs, Scott Wilson y Melissa McBride.
La cuarta temporada de "The Walking Dead" se estrena el 13 de Octubre de 2013 en AMC.