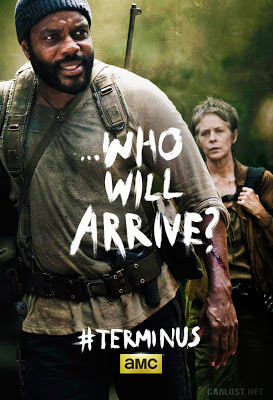 ACTUALIZADO
Ya van saliendo algunas imágenes promocionales de The Walking Dead 4×16 «A», final de temporada, que se estrena el Domingo 30 de Marzo en AMC, y el Lunes 31 de Marzo en FOX Latinoamérica y España. A continuación más fotos en alta calidad (HQ), y los algunos póster promocionales de los personajes.

The Walking Dead 4×16 «A» (Final de Temporada)
Sinopsis: Mientras múltiples caminos convergen, Rick se enfrenta cara a cara con la brutalidad. ¿Tendrá él y su grupo lo necesario para sobrevivir?
Más adelantos: Promos del final de temporada – Sneak Peeks
Rick Grimes (Andrew Lincoln) en el final de temporada de The Walking Dead 4×16 «A»

Carl Grimes (Chandler Riggs) en el final de temporada de The Walking Dead 4×16 «A»

Carl Grimes (Chandler Riggs) en The Walking Dead 4×16 «A» Season Finale

Michonne (Danai Gurira), Rick Grimes (Andrew Lincoln) y Carl Grimes (Chandler Riggs) en The Walking Dead 4×16 «A» Season Finale

Terminus en The Walking Dead 4×16 «A» Season Finale

Michonne (Danai Gurira) en The Walking Dead 4×16 «A» Season Finale

Rick Grimes (Andrew Lincoln) en The Walking Dead 4×16 «A» Season Finale