El estreno de "House of the Dragon" logró casi 10 millones de espectadores (9,986 millones para ser exactos) a través de la señal de HBO y su plataforma de streaming HBO Max, durante la noche del domingo en Estados Unidos, logrando así la mayor audiencia para el estreno de una serie en la historia de HBO.
A estos datos entregados por WarnerMedia, también tenemos que añadir que fue el estreno más grande de una serie en HBO Max en los EE. UU., Latinoamérica, Europa, Medio Oriente y África, impulsando un nivel sin precedentes de transmisiones simultáneas en la plataforma.

La serie también fue todo un éxito en redes sociales, donde los fans esperaron con ansias durante todo el día domingo 21 de agosto el primer capítulo, logrando posicionar el hashtag de la serie en Twitter en el #1 de los Trending Topics durante 12 horas consecutivas, además de ser tendencia #1 en Google Trends. 
Adicionalmente, la serie original "Game of Thrones" acaba de terminar su semana más fuerte en HBO Max hasta la fecha, culminando un período de siete semanas de crecimiento, semana tras semana en la previa al estreno de su precuela "House of the Dragon". El promedio de visualización semanal de "Game of Thrones" en agosto es casi un 90% superior a junio y casi un 50% superior a julio.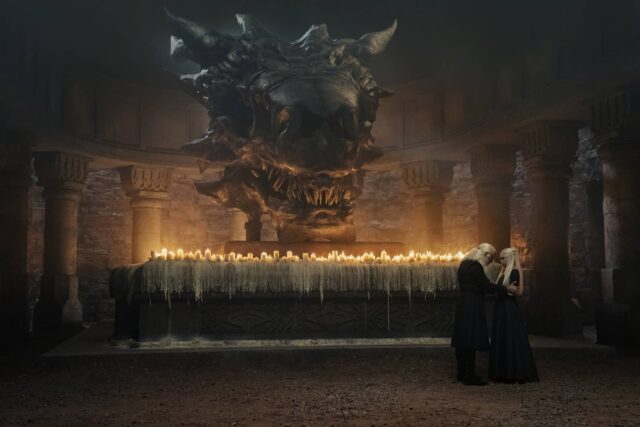 Los nuevos episodios de "House of the Dragon" debutarán cada semana, los días domingo en la noche, en HBO, y por supuesto también estarán disponibles a través de la plataforma de streaming HBO Max, así que acá en el sitio iré publicando los adelantos cada semana.

Esta primera temporada tiene 10 episodios, por lo que el final de temporada, el 1x10 será el domingo 23 de octubre.
¿Y habrá segunda temporada de House of the Dragon?
Por el momento no ha habido ningún anuncio de renovación por una segunda temporada de la serie, pero viendo todos estos logros alcanzados solo con el primer episodio, debería ser cuestión de tiempo para que HBO oficialice la renovación de la serie.