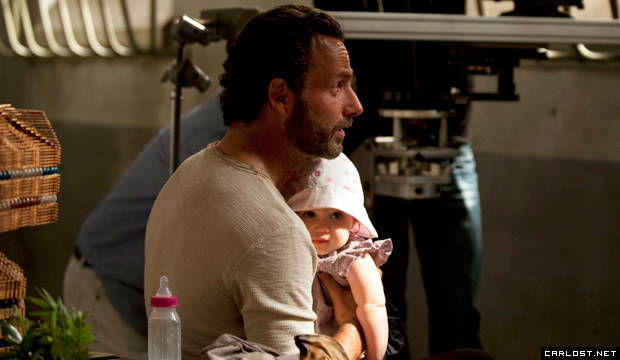 The Walking Dead 4x01 "30 Days Without An Accident" se estrena este Domingo 13 de Octubre, y aquí tenemos algunos detalles e imágenes Behind The Scenes (BTS) de cómo será esta Season Premiere.
OBS: No es el resumen completo del capítulo. Sólo son imágenes de las grabaciones y algunos pequeños spoilers.

En el primer capítulo de la cuarta temporada titulado "30 Days Without An Accident", veremos como Rick y los otros han acogido a los nuevos integrantes provenientes de Woodbury, y viven en un ambiente de paz, incluso Rick ya no usa un arma,
Muchas caras nuevas, pero no se preocupen, no será necesario aprenderse sus nombres.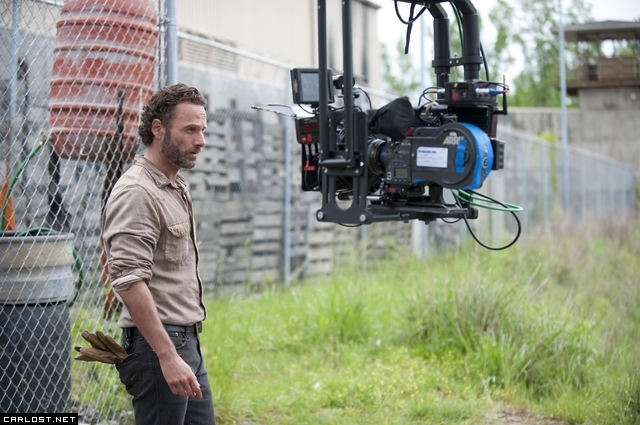 Ahora en la prisión tienen granja (Hershel aporta los consejos agrícolas), crían cerdos, y realizan constantes salidas a tiendas abandonadas repletas de caminantes, en busca de suministros. Rick también hace lo propio, saliendo a los bosques.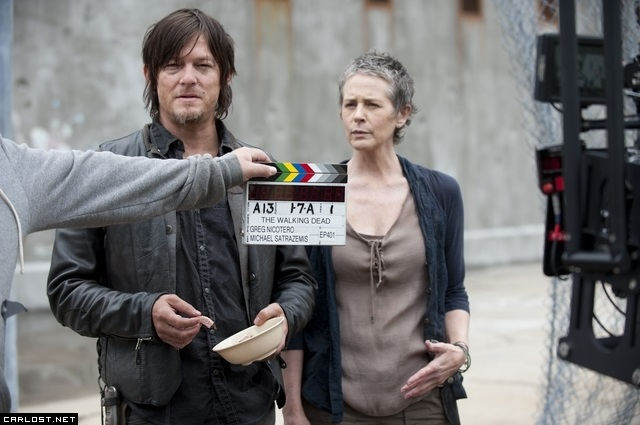 Daryl Dixon (Norman Reedus) y Carol (Melissa McBride) coquetearán bastante en este primer episodio. El amor está en el aire, y Tyreese y Karen sabrán de ello.
Por otra parte, Carol ahora tiene un rol más notorio y la podremos ver contando cuentos a los niños, y dando clases de sobrevivencia.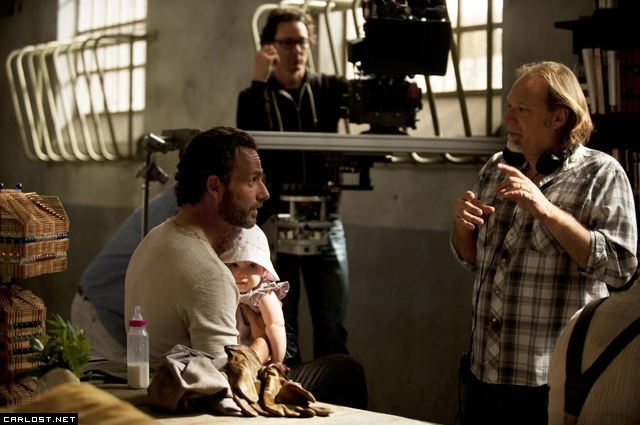 Andrew Lincoln y Greg Nicotero conversando antes de filmar una escena que involucra a Rick y a la ya crecida, pero aún frágil
Judith
, quien tendrá un rol importante esta temporada.
Nuevas amenazas afectarán al grupo esta temporada, y en el
4x02 "Infected"
se revelará claramente.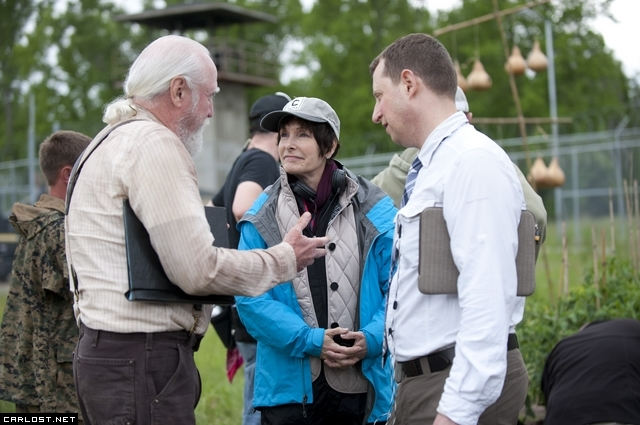 Scott Wilson, Gale Anne Hurd y Scott M. Gimple conversando a un costado de la nueva granja que habrá en la prisión. En esta temporada Hershel tendrá una prótesis en la pierna, por lo que lo veremos caminar sin problemas.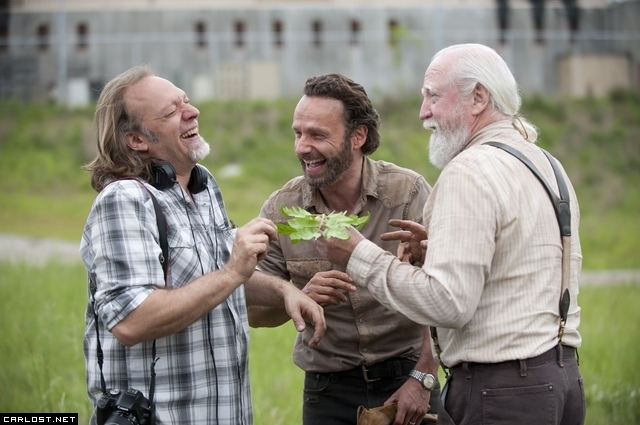 Greg Nicotero, Andrew Lincoln y Scott Wilson pasándolo muy bien en las pausas de la grabación.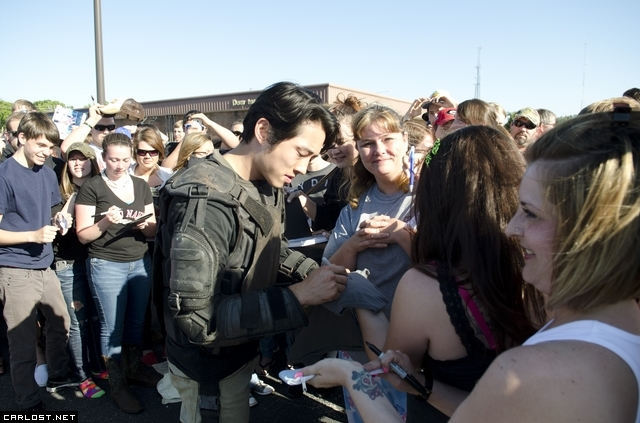 Steven Yeun aún con la ropa de Glenn en el 4x01, firmando autógrafos a los fans que se encontraban en las afueras de la locación correspondiente a la escena del supermercado.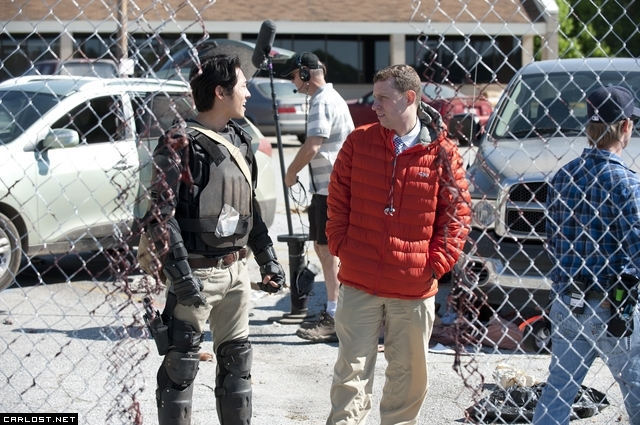 Steven Yeun y Scott M. Gimple, el nuevo showrunner de la serie.
Glenn y Maggie continúan su relación de pareja. El ambiente está tan en paz que incluso Maggie cree que tener un bebé y criarlo en esta nueva prisión podría ser una buena idea, pero se decepcionará al saber en este primer episodio que no está embarazada.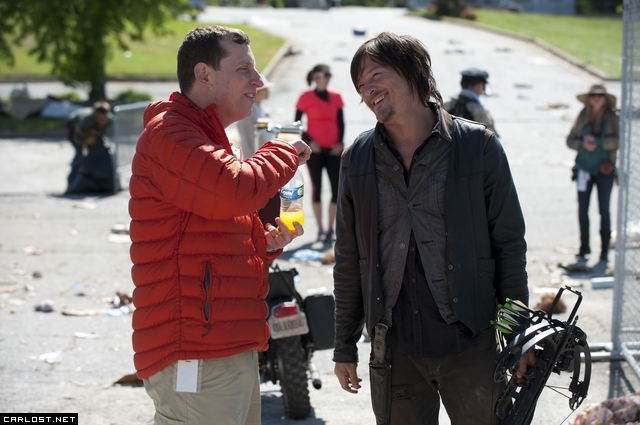 Scott M. Gimple (showrunner) y Norman Reedus en el papel de Daryl Dixon, quién tendrá un rol más importante en esta cuarta temporada.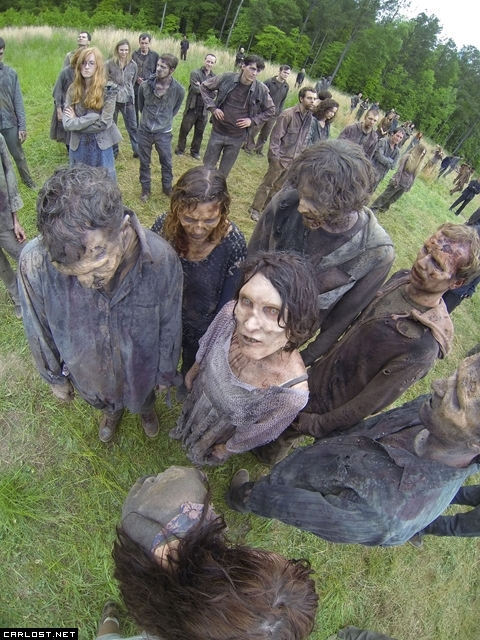 Y por supuesto lo que no faltará en este primer capítulo de la cuarta temporada son los caminantes, que aparecerán en gran cantidad, y desde los lugares más insospechados, y por supuesto con el genial maquillaje a cargo de Greg Nicotero, co-Productor Ejecutivo y Supervisor de efectos especiales de maquillaje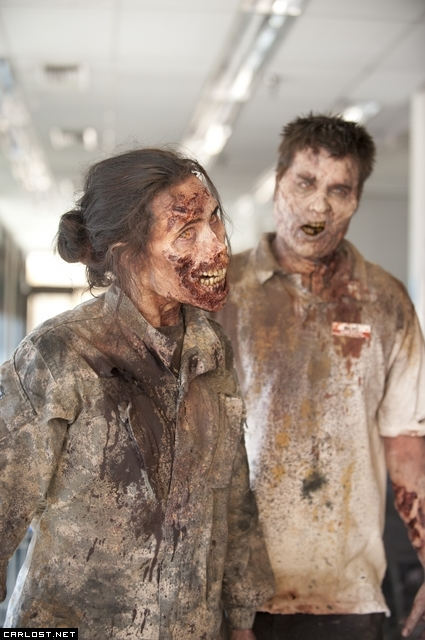 The Walking Dead
4x01 "30 Days Without An Accident", se estrena el Domingo 13 de Octubre en AMC, el Lunes 14 de Octubre en FOX España y el Martes 15 de Octubre en FOX Latinoamérica