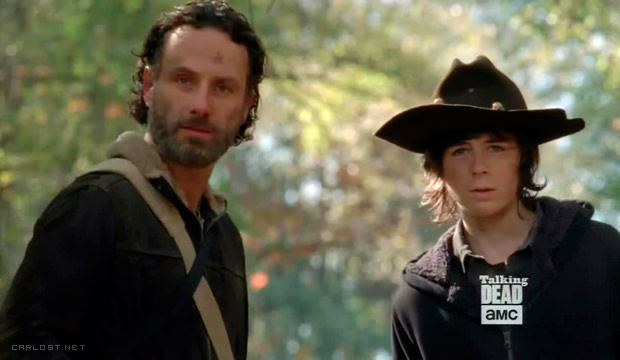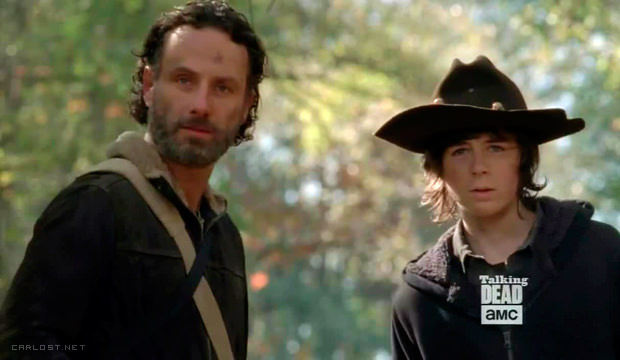 Ya tenemos las escenas adelanto (Sneak Peeks) del próximo capítulo de The Walking Dead 4x16 "A", final de la cuarta temporada, que se estrena el próximo Domingo 30 de Marzo en AMC y el Lunes 31 de Marzo en FOX España y Latinoamérica.

The Walking Dead 4x16 "A" (Final de Temporada)
Sinopsis: Mientras múltiples caminos convergen, Rick se enfrenta cara a cara con la brutalidad. ¿Tendrá él y su grupo lo necesario para sobrevivir?
Más adelantos: Promos del final de temporada
En el primer adelanto vemos a Rick, Michonne y Carl ir a revisar una trampa para conejos que habían puesto. Un pequeño conejo ha sido atrapado. Rick le explica el funcionamiento de la trampa a Carl. Le dice que debe hacer una especie de camino, y poner una cuerda con un nudo simple tapado con hojas, de modo que cuando el animal pase corriendo por ese camino quedará atrapado por el nudo. En medio de la explicación se escuchan gritos pidiendo ayuda. Carl se para rápidamente y sale corriendo. Rick le dice que se detenga, pero Carl sigue corriendo, por lo que él y Michonne lo siguen.
En este segundo sneak peek Rick, Carl y Michonne van caminando por el bosque. Carl le pregunta a Rick si ya están cerca de Terminus. Rick le dice que si. Luego Carl le pregunta si cuando lleguen a Terminus les dirán. ¿Decirles qué? pregunta Michonne. "Todo lo que nos ha pasado. Todas las cosas que hemos hecho... ¿Les vamos a decir la verdad?" dice Carl.
Rick le dice que les dirán quienes son, pero Carl se muestra confundido, y le dice que cómo harán eso... ¿Quiénes somos? se pregunta Carl. En ese momento un caminante aparece frente a ellos. Michonne saca su katana y se prepara para a matarlo.