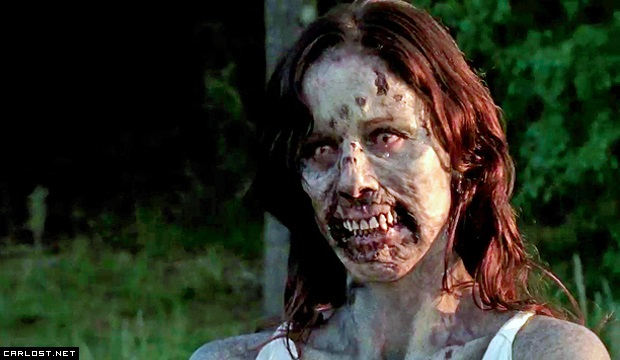 Seamos honestos: Rick Grimes enloqueció un poco bastante la temporada pasada de The Walking Dead después de que su esposa Lori muriera. Comenzó escuchando cosas y luego viendo cosas (cosas que no estaban ahí realmente). Pues bien, este mes sale a la venta el DVD/Blu-Ray de la tercera temporada de la serie y en los extras nos encontramos con una escena borrada que demuestra que la locura de Rick se podría haber visto mucho peor, al ver a la mismísima Lori convertida en zombi.

¿Se acuerdan del episodio 3x10 "Home", en el que Rick en un momento caminando por el patio de la prisión ve a Lori vestida de blanco? Bueno, desde Entertainment Weekly nos llega la escena borrada incluida en el DVD/Blu-Ray de la tercera temporada, y en donde podemos ver cómo se rodó originalmente la escena.
En el video vemos a Rick acercarse a Lori que se encuentra vestida de blanco en la zona del puente. Ella le toca su rostro, y comienzan a besarse, mientras Rick cierra los ojos, pero cuando terminan de besarse y Rick abre los ojos se encuentra con una imagen aterradora de Lori con el rostro demacrado. convertida en caminante. Rick retrocede cayendo al suelo, y comienza a gritar, mientras que Michonne observa la locura de Rick desde la distancia. Vé la escena tu mismo a continuación:
Esta escena y muchas más las puedes encontrar en el DVD/Blu-Ray de la tercera temporada de The Walking Dead que sale a la venta el 27 de Agosto de 2013.