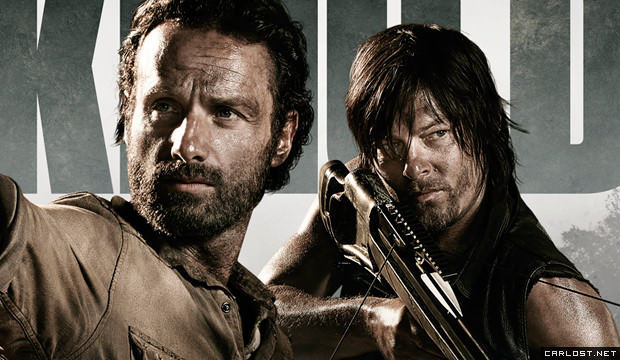 Esta tarde ha sido revelado el primer poster de la cuarta temporada de
The Walking Dead
, el cual será usado durante la Comic-Con de San Diego de este mes, y como era de esperar en él aparecen algunos de los personajes favoritos de los fans: Rick, Daryl, Tyreese y Michonne.
A continuación el poster en alta calidad (HQ).
Poster Alta Calidad (HQ) - 6900x2400 px
Aqui está el poster en super, mega, hiper calidad xD, tanto así que van a necesitar más de un monitor para verlo completo...

Este poster será usado en todo lo que es promoción de la nueva temporada durante la Comic-Con 2013 que se llevará a cabo en San Diego, Estados Unidos del 17 al 21 de Julio. El panel de The Walking Dead está previsto para el día Viernes 19 de Julio.
En el centro del poster vemos a Rick y Daryl con sus armas: la pistola y la ballesta. A la izquierda tenemos a Tyreese con su martillo rodeado de caminantes, y a la derecha del poster tenemos a Michonne con su inseparable katana, arriba de un caballo. ¿Qué les pareció el poster de este año?
Si recordamos, el poster del año pasado mostraba a Michonne, Rick y el Gobernador. Este año, Rick y Michonne se mantienen, mientras que el Gobernador es reemplazado por Daryl y Tyreese. ¿Será que el Gobernador tendrá un papel más bien secundario esta temporada? Puede ser, ya que hasta hace pocas semanas David Morrissey aún se encontraba en Londres filmando una película, siendo que el rodaje de The Walking Dead comenzó a principios de Mayo. Pero no se preocupen, que al día de hoy (1 de Julio) él ya se encuentra en Atlanta grabando la cuarta temporada de la serie con el resto del elenco.
La cuarta temporada de The Walking Dead regresa en Octubre, pero ya conocemos algunos títulos de los episodios, incluyendo el de la premiere.