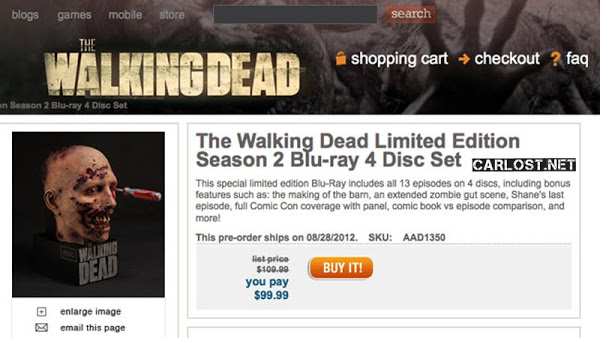 Esta semana sin duda ha sido la semana de los spoilers (A la derecha de la página el MEGA SPOILER de The Walking Dead se encuentra entre lo más visitado), pero lo curioso es que esta vez ha sido el propio sitio de AMC (canal que transmite The Walking Dead en USA), que con el fin de promocionar el BluRay de la segunda temporada, accidentalmente ha publicado un gran spoiler de esta temporada.
A continuación podrás ver en detalle la imagen del spoiler revelado...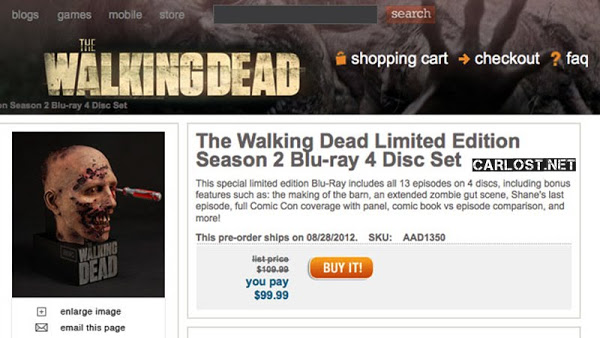 El spoiler del que les comentaba apareció en la descripción del BluRay de la segunda temporada, en el sitio web de AMC. La publicación en el sitio web estuvo activa por un tiempo, pero ahora ya ha sido eliminada.
Aquí está la traducción:
La edición especial limitada del BluRay incluye los 13 episodios en 4 discos, incluyendo extras como: El making of del granero, escena extendida del destripamiento zombie, El último episodio de Shane, cobertura del panel en la Comic Con, comparasión de los epsiodios y el comic y más!
Obviamente los que leemos spoilers ya sabíamos lo que pasará con Shane, además están las fotos que lo corroboran, pero sin duda para quienes no les gustan los spoilers y visitaron la web de AMC, fue un verdadero balde de agua fría.