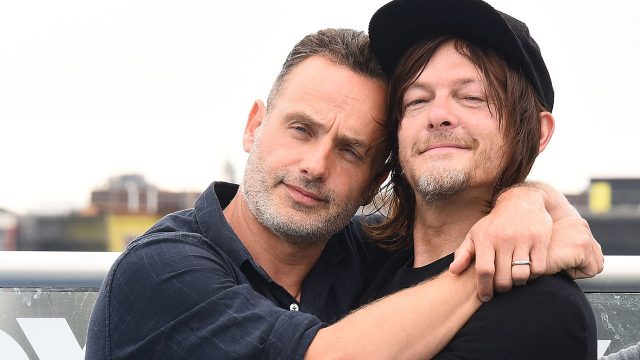 En una entrevista, Norman Reedus habló de la salida de su amigo y compañero Andrew Lincoln de The Walking Dead.

Durante la Comic-Con de San Diego, parte del elenco de The Walking Dead asistió a una entrevista con SiriusXM Radio, en donde Norman Reedus (Daryl Dixon) reveló que junto a su compañero y amigo Andrew Lincon (Rick Grimes) habían planeado originalmente dejar la serie juntos.
"Hicimos un pacto. Creo que fue por la tercera o cuarta temporada. Fue algo como: Si tu te vas, yo me voy"
Ante esto, Andrew Lincoln le preguntó en medio de la entrevista: "¿Te estás yendo? ¿Es esto un anuncio?", ante lo que Norman Reedus respondió "Diablos, no".
Pese a que Norman habría roto el pacto, deja en claro que lamenta mucho perder a su mejor amigo en el set. "Él era la primera persona que veía en la mañana. Apenas terminábamos de grabar, inmediatamente me llamaba desde el auto. Hablábamos todo el tiempo. Pasábamos todos los almuerzos en mi trailer. Compartimos el trailer por siempre."
"Él estableció un precedente para nosotros en la serie. Dejó la vara muy alta desde el comienzo, y siempre estamos tratando de que se mantenga. Y él siempre estará en nuestras cabezas mientras intentamos hacer eso.
Me ha hecho un mejor actor, un mejor amigo, un mejor padre, todo el tiempo. Es una persona muy, muy importante para mí ".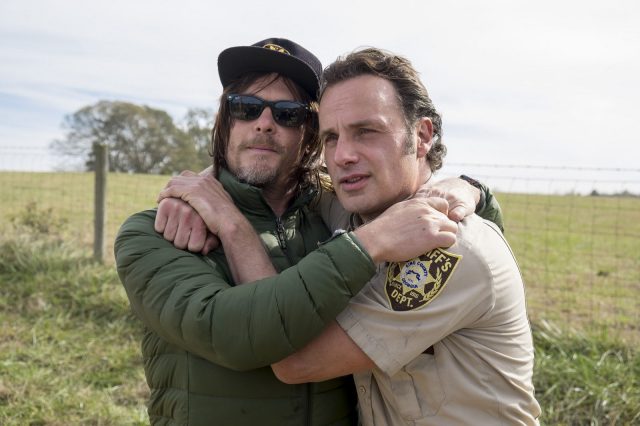 Pese a que Norman siente mucho tener que ver partir a Andrew de la serie, entiende y apoya el deseo del actor de volver a Inglaterra para pasar más tiempo con su familia.
"Cuando me dijo que estaba pensando en hacer esto, lo entendí. Yo tengo un hijo en Nueva York, y constantemente estoy yendo y viniendo durante estos nueve años para verlo. Y lo entiendo. Él tiene dos hermosos hijos, una hermosa esposa. Toda su familia es asombrosa, y no te puedes enojar con él por irse. Es muy entendible, pero lo voy a extrañar demasiado."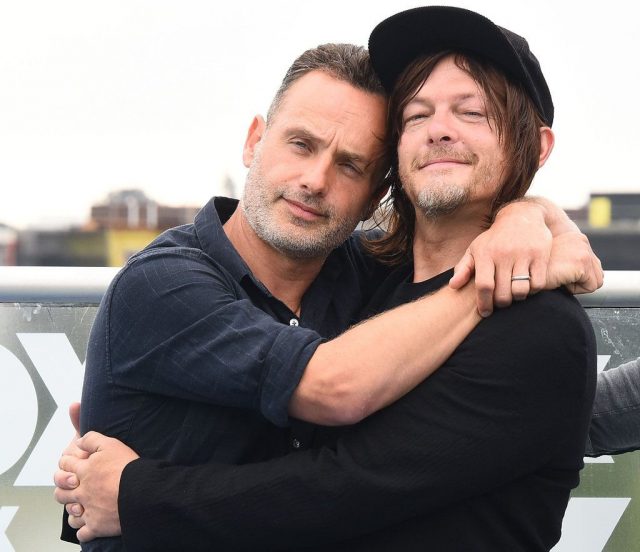 Si bien Andrew ya no está presente en las grabaciones de The Walking Dead, eso no significa que no siguen comunicados. "Aún le envío los guiones" dice Norman, a lo que Andrew reconoce que "Es verdad."
Y al parecer Andrew sigue siendo un referente para Norman, ya que cuenta además que le pide consejos para las escenas que debe grabar.
"Le pregunto qué debería hacer en cada escena. Y seguirá siendo así. Él me ayuda todo el tiempo."