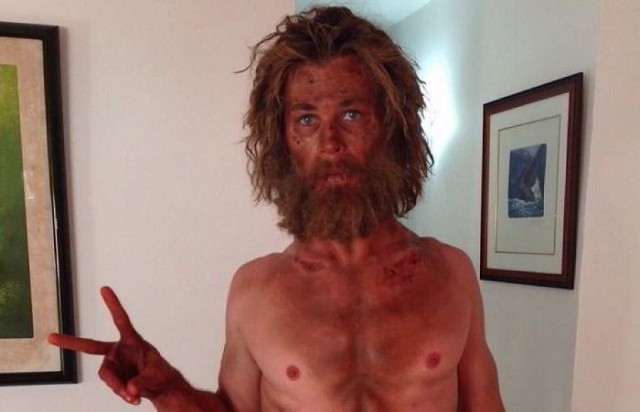 Cuando pensamos en Chris Hemsworth, lo primero que se nos viene a la mente es su aspecto como Thor, sin embargo el actor publicó hace unos días en su cuenta de Instagram una imagen en la que aparece irreconocible.

En la foto se le ve mucho más delgado y con barba, pero todo esto tiene una explicación. Se trata del aspecto que tuvo que adoptar para la nueva película "In the Heart of the Sea" (En el Corazón del Mar), en la cual interpreta a un tripulante de un barco ballenero, que queda varado luego que una ballena destruye su barco.

"Probé una nueva dieta/programa de entrenamiento llamado "Perdido en el mar". No se los recomendaría.. #IntheHeartoftheSea"
Para interpretar hombres que han quedado a la deriva y sin comida, Hemsworth y sus compañeros de elenco tuvieron que reducir sus dietas, a una ingesta calórica de sólo 500 calorías diarias, además de hacer ejercicio incluso en época de rodaje.
"Tuvieron que ejercitarse todos los días, incluso en los días de rodaje", dijo el director Ron Howard en una entrevista con EW.
Acá puedes ver el tráiler subtitulado de "In The Heart of the Sea" (En el corazón del mar)
La película se estrena el próximo mes de Diciembre, en las siguientes fechas:
Argentina 31/12/2015
Bolivia 03/12/2015
Chile 03/12/2015
Colombia 03/12/2015
México 04/12/2015
Panamá 03/12/2015
Perú 03/12/2015
Puerto Rico 03/12/2015
Uruguay 10/12/2015
Venezuela 25/12/2015