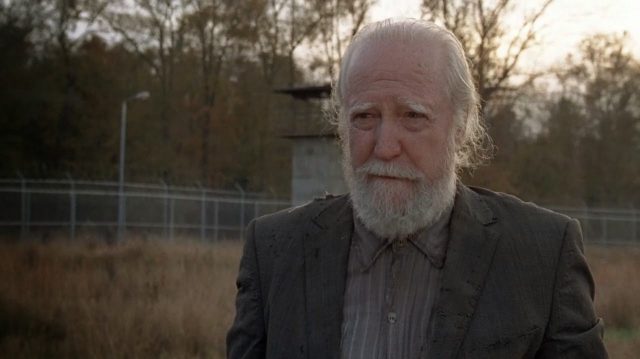 Esta tarde ha fallecido el actor Scott Wilson, uno de los actores más carismáticos de The Walking Dead, y cuyo personaje de Hershel fue también siempre muy querido.

La cuenta oficial de The Walking Dead en Twitter ha comunicado la noticia:
We are deeply saddened to report that Scott Wilson, the incredible actor who played Hershel on #TheWalkingDead, has passed away at the age of 76. Our thoughts are with his family and friends. Rest in paradise, Scott. We love you! pic.twitter.com/guNI7zSqDZ

— The Walking Dead (@TheWalkingDead) 7 de octubre de 2018
"Estamos muy tristes de tener que informar que Scott Wilson, el increíble actor que interpretó a Hershel en #TheWalkingDead, ha fallecido a la edad de 76 años. Nuestros pensamientos están con su familia y amigos. Descansa en el paraíso, Scott. ¡Te queremos!"
Scott Wilson falleció este sábado 6 de octubre, debido a la leucemia que padecía.
Justo este sábado, durante el panel de The Walking Dead en la Comic-Con de Nueva York, se anunció que Scott Wilson aparecerá en la novena temporada de la serie.
Tras darse a conocer la noticia de su fallecimiento, varios miembros del elenco de The Walking Dead han escrito en las redes sociales:
Heartbroken hearing the news about my friend Scott Wilson . A great man and true friend. Aa well as a fabulous actor. RIP buddy.

— David Morrissey (@davemorrissey64) 7 de octubre de 2018
The first time I met Scott Wilson, he gave me a big hug and said that this thing I had become apart of... was a family. He said I had a responsibility to take care of it. I have tried very hard to do that, sir. & I will continue. I promise. See you on the other side, my friend. pic.twitter.com/EhMm0dQbtx

— Khary Payton (@kharypayton) 7 de octubre de 2018
Rest In Peace Scott. Couldn't say enough about how gracious and kind this man was. Blessed to have worked with him on both The Walking Dead and Bosch. 💔 pic.twitter.com/3WpkauhBzl

— Madison Lintz (@madison_lintz) 7 de octubre de 2018
Goodbye Scott Wilson you absolute legend x

— Tom Payne (@justanactor) 7 de octubre de 2018