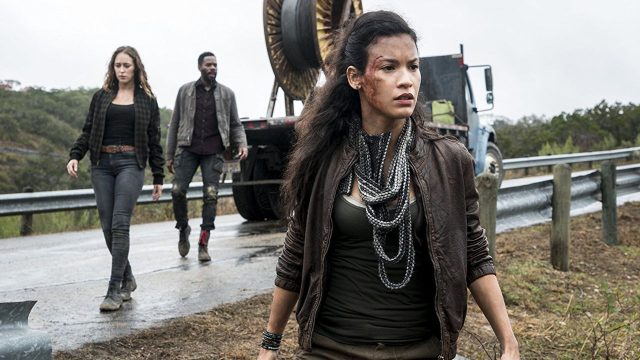 Promos, fotos y sneak peeks de Fear The Walking Dead 4x03 "Good Out Here", que se estrena el domingo 29 de Abril en AMC.

Sinopsis:
Madison y Morgan intentan ayudar a Nick a encontrar la paz interior; una búsqueda de venganza cobra su precio en el grupo.
Fear The Walking Dead 4x03 Promo Sub Español

En el próximo episodio, veremos la continuación de cuando Althea (Maggie Grace), Morgan (Lennie James) y John Dorie (Garret Dillahunt) se encuentran con Alicia (Alycia Debnam-Carey), Luciana (Danay García), Nick (Frank Dillane) y Strand (Colman Domingo).
FearTWD 4x03 Sneak Peek #1 Subtitulado en Español

En la primera escena de adelanto, vemos a Morgan en medio de la carretera practicando con la vara, cuando ve un vehículo acercarse.
Morgan sale de la carretera y se dirige al camión de Althea a advertirle a Nick que se esconda.
FearTWD 4x03 Sneak Peek #2 Subtitulado en Español

En esta nueva escena vemos que Althea tiene más habilidades para mostrarnos. Lueego de haber sido capturada y atada por Alicia, Althea logra desamarrarse y tomar a Nick como rehén.
Althea les dice que detengan el camión, pero Nick la golpea e intenta separarse.
Fotos promocionales de Fear The Walking Dead 4x03
Fotos por: Richard Foreman, Jr/AMC