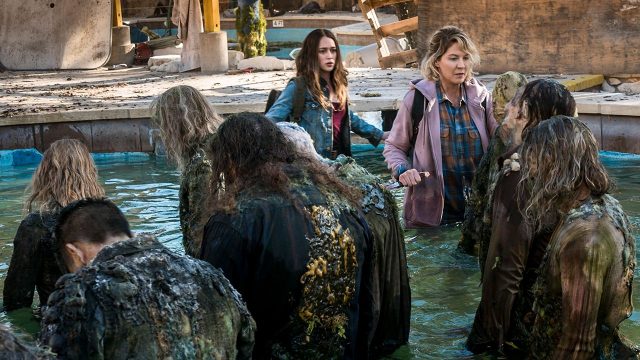 Promos, fotos y sneak peeks de Fear The Walking Dead 4x04 "Buried", que se estrena el domingo 6 de Mayo en AMC.

Sinopsis:
El interrogatorio de Althea descubre algunas verdades sorprendentes sobre el pasado del grupo; John Dorie recibe noticias inesperadas.
Fear The Walking Dead 4x04 Promo Sub Español

En el próximo episodio de Fear The Walking Dead seguiremos viendo escenas mezcladas entre pasado y presente.
Vemos que Althea graba a Alicia matando a un caminante, e incluso a Strand cubriendo el cadáver de Nick.
Naomi le dice a Alicia que el estadio no durará, y en este mismo episodio las veremos a ambas visitar un parque acuático, en donde un gran número de caminantes se interpondrá en su camino.
FearTWD 4x04 Sneak Peek #1 Subtitulado en Español

En esta escena vemos a Madison (Kim Dickens) hablar por radio con Mel (Kevin Zegers), quien le pregunta si tiene condimentos.
Madison sale del estadio y lo encuentra cocinando unas salchichas.
Mel está interesado en saber a dónde está enviando Madison a su gente por estos días, pero ella no se lo revela.
Mel le dice: "Cada vez que mandas a alguien allá afuera, hay una posibilidad de que no regresen".
Pero Madison está confiada: "Regresarán. Conozco a mi gente."
FearTWD 4x04 Sneak Peek #2 Subtitulado en Español

En esta segunda escena vemos a Strand (Colman Domingo) acompañado de alguien más buscando suministros, pero un grupo de caminantes comienza a atacarlos.
Fotos promocionales de Fear The Walking Dead 4x04
Fotos por: Richard Foreman, Jr/AMC