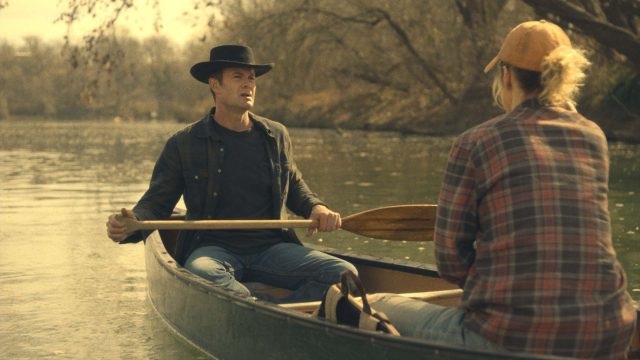 Promos, fotos y sneak peeks de Fear The Walking Dead 4x05 "Laura", que se estrena el domingo 13 de Mayo en AMC.

Sinopsis:
La llegada de un visitante herido en la vida de John Dorie (Garret Dillahunt), lo obliga a cambiar sus costumbres.
Fear The Walking Dead 4x05 Promo Sub Español

Luego de la revelación de que Naomi es la misma mujer que John Dorie ha estado buscando, y que se llama en realidad Laura, en este próximo episodio veremos cómo se conocieron.
En la promo vemos que John le dice a Laura que la encontró inconsciente a la orilla del río, con una herida, pero que afortunadamente no es una mordida.
FearTWD 4x05 Sneak Peek #1 Subtitulado en Español

En esta primera escena vemos a John y Laura en un bote. John le cuenta a Laura que solía ser oficial de policía.
FearTWD 4x05 Sneak Peek #2 Subtitulado en Español
Fotos promocionales de Fear The Walking Dead 4x05
Fotos por: Richard Foreman, Jr/AMC