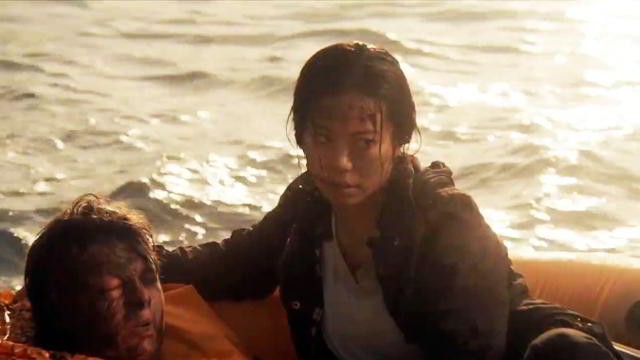 Promos y sneak peeks de Fear The Walking Dead 2x03 "Ouroboros", que se estrena el Domingo 24 de Abril en AMC.

En este capítulo al fin podremos ver lo que pasó con el vuelo 462. Si aún no ves los webisodios con el origen de la historia del vuelo, acá puedes ver los webisodios.
La sinopsis oficial dice que en este capítulo, Madison confronta a Strand acerca del misterioso destino que tiene planeado, y que Nick, Alicia y los otros inspeccionan los restos de un accidente de avión.
Fear The Walking Dead 2x03 Promo Subtitulada

En la promo se puede ver que Charlie (Michelle Ang) y Jake (Brendan Meyer) se encuentran en una balsa en medio del mar.
Madison encara a Strand y le pregunta si es verdad que se dirigen a México.
Chris se adentra en los restos del avión, en donde hay algunos caminantes en los asientos.
En la playa, Charlie viene desesperada corriendo hacia Daniel, y le advierte que los caminantes vienen detrás de ella.
Daniel, Alicia, Chris y Charlie se encuentran arrinconados por los caminantes. Alicia pregunta donde se encuentra Nick, que en otra escena lo vemos tendido en la arena mientras un caminante intenta morderlo.
En el yate, Travis por algún motivo sale a bucear, pero tiene problemas y se comienza a ahogar.
FTWD 2x03 Sneak Peek #1: Los planes de Strand

En este sneak peek podemos ver a Strand nuevamente hablando por teléfono y le dice a la persona que irá hacia allá.