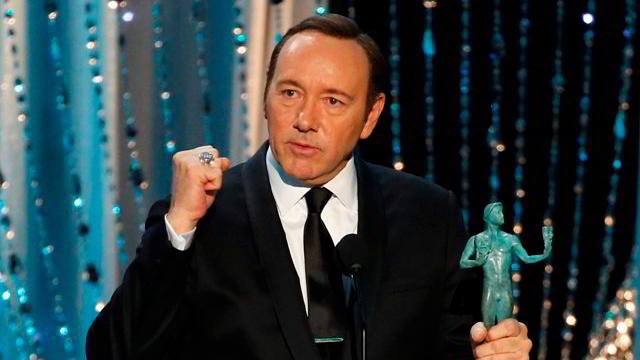 Ya se llevó a cabo la entrega de los Screen Actors Guild Awards 2016 (SAG Awards 2016), y a continuación puedes ver todos los ganadores y videos de cuando aceptaron su premio.

En Drama, la sorpresa la dio Downton Abbey, que se quedo con el premio al mejor elenco, ganándole a otras series como Mad Men y Game of Thrones.
El gran Kevin Spacey se llevó el premio a mejor actor por su personaje de Frank Underwood en House of Cards (que estrena nueva temporada en Marzo), mientras que Viola Davis sigue con su racha ganadora y se llevó el premio a mejor actriz por su interpretación de la abogada Annalise Keating en How to Get Away with Murder.
En Comedia la gran ganadora fue Orange is The New Black, como mejor elenco, y Uzo Aduba como mejor actriz de comedia por su papel de 'Crazy Eyes'. Muy merecido.
En Cine, los premios estuvieron bastante repartidos en diferentes películas, y el sindicato de actores eligió como el mejor elenco al de la película Spotlight, a Leonardo DiCaprio como mejor actor por The Revenant, y a Brie Larson como mejor actriz por Room.
A continuación la lista completa de ganadores de los SAG Awards 2016:
CINE
Mejor Actor
Bryan Cranston (Trumbo)
Johnny Depp (Black Mass)
Leonardo DiCaprio (The Revenant)
Michael Fassbender (Steve Jobs)
Eddie Redmayne (The Danish Girl)
Mejor Actriz
Cate Blanchett (Carol)
Brie Larson (Room)
Helen Mirren (Woman in Gold)
Saoirse Ronan (Brooklyn)
Sarah Silverman (I Smile Back)
Mejor Actor de Reparto
Christian Bale (The Big Short)
Idris Elba (Beasts of No Nation)
Mark Rylance (Bridge of Spies)
Michael Shannon (99 Homes)
Jacob Treembley (Room)
Mejor Actriz de Reparto
Rooney Mara (Carol)
Rachel McAdams (Spotlight)
Helen Mirren (Trumbo)
Alicia Vikander (The Danish Girl)
Kate Winslet (Steve Jobs)
Mejor Elenco en una Película
Beasts of No Nation
The Big Short
Spotlight
Straight Outta Compton
Trumbo
Mejor Elenco de Dobles en una Película
Everest
Fast 7
Jurassic World
Mad Max: Fury Road
Mission: Impossible — Rogue Nation
TELEVISIÓN
Mejor Actor en una Serie Dramática
Peter Dinklage (Game of Thrones)
Jon Hamm (Mad Men)
Bob Odenkirk (Better Call Saul)
Kevin Spacey (House of Cards)
Rami Malek (Mr. Robot)
Mejor Actriz en una Serie Dramática
Claire Danes (Homeland)
Viola Davis (How To Get Away With Murder)
Julianne Marguiles (The Good Wife)
Maggie Smith (Downton Abby)
Robin Wright (House of Cards)
Mejor Elenco en una Serie Dramática
Downton Abby
Game of Thrones
Homeland
House of Cards
Mad Men
Mejor Actor en una Serie de Comedia
Ty Burrell (Modern Family)
Louis C.K. (Louis)
William H. Macy (Shameless)
Jim Parsons (The Big Bang Theory)
Jeffrey Tambor (Transparent)
Mejor Actriz en una Serie de Comedia
Uzo Aduba (Orange Is The New Black)
Edie Falco (Nurse Jackie)
Ellie Kemper (Unbreakable Kimmy Schmidt)
Julia Louis-Dreyfus (Veep)
Amy Poehler (Parks & Recreation)
Mejor Elenco en una Serie de Comedia
The Big Bang Theory
Key & Peele
Modern Family
Orange Is The New Black
Transparent
Veep
Mejor Actor en una Miniserie o Película para Televisión
Idris Elba (Luther)
Ben Kingsley (Tut)
Ray Liotta (Texas Rising)
Bill Murray (A Very Murray Christmas)
Mark Rylance (Wolf Hall)
Mejor Actriz en una Miniserie o Película para Televisión
Nicole Kidman (Grace of Monaco)
Queen Latifah (Bessie)
Christina Ricci (The Lizzie Borden Chronicles)
Susan Sarandon (The Secret Life Of Marilyn Monroe)
Kristen Wiig (The Spoils Before Dying)
Mejor Elenco de Dobles en una Serie de Televisión
The Blacklist
Daredevil
Game Of Thrones
Homeland
The Walking Dead