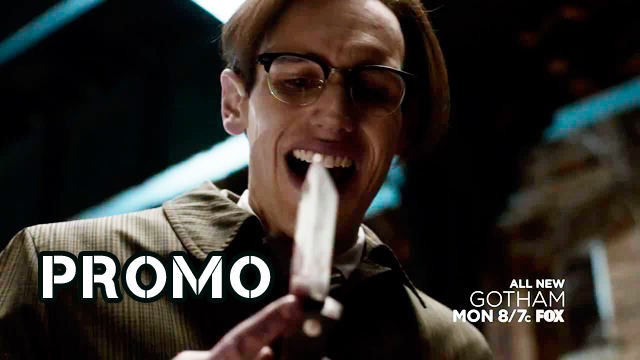 Gotham regresa a las pantallas el próximo Lunes 13 de Abril, con los últimos 4 capítulos de la temporada. A continuación la promo y sinopsis del 1x19 "Beasts of Prey".

Gotham S01E19 "Beasts of Prey"
Sinopsis: Gordon y Bullock inspeccionan un caso que involucra al Ogro, un asesino serial que tiene en la mira a jóvenes mujeres en la ciudad de Gotham.
Mientras tanto, Fish planea su escape de Dollmaker (El fabricante de Muñecas), y Bruce con Selina confrontan a Reggie

En este capítulo veremos a la primera víctima de Edward Nygma (el Acertijo), además de un nuevo villano que se suma a la serie: Jason Lennon (El Ogro), interpretado por el actor Milo Ventimiglia.
Elenco: Ben McKenzie como el Detective James Gordon, Donal Logue como Harvey Bullock, Jada Pinkett Smith como Fish Mooney, Sean Pertwee como Alfred, Robin Lord Taylor como Oswald Cobblepot/El Pingüino, Erin Richards como Barbara Kean, David Mazouz como Bruce Wayne, Camren Bicondova como Selina Kyle/la futura Catwoman, Zabryna Guevara como la Capitana Sarah Essen, Cory Michael Smith como Edward Nygma/el futuro Acertijo, Victoria Cartagena como Renee Montoya, Andrew Stewart Jones como Crispus Allen, John Doman como Carmine Falcone
Elenco invitado: Peter Scolari as Comisionado Loeb, Morena Baccarin como la Dra. Leslie Thompkins, Colm Feore como Dr. Francis Dulmacher, David O'Hara como Reggie, Dashiell Eaves como Kelly, Milo Ventimiglia como Jason Lennon, Willa Fitzgerald como Grace Fairchild, PJ Griffith como The Catcher, Brendan Griffin como Oficial Len Moore, Barbara Rosenblat como Lidia Bicchieri.