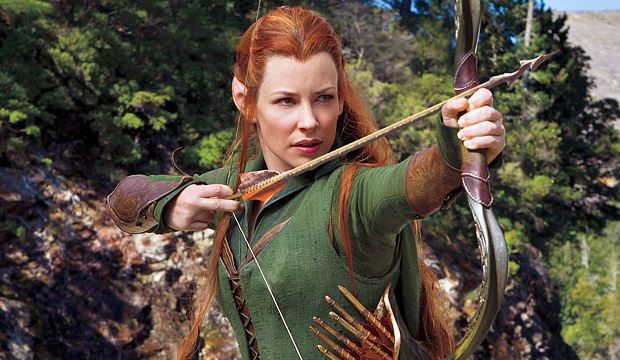 Desde Entertainment Weekly nos llega la primera imagen oficial de Evangeline Lilly como la elfa Tauriel en The Hobbit: The Desolation of Smaug, que llegará a las pantallas de cine el 13 de Diciembre de 2013.
A continuación la imagen promocional y la traducción de la entrevista a Evangeline Lilly, en donde nos cuenta mas de su personaje.
En entrevista con Entertainment Weekly, Evangeline Lilly dijo acerca de su personaje Tauriel: "Es ligeramente imprudente y totalmente despiadada, y no vacila en matar",
Su personaje no aparece en ninguna de las obras de J.R.R. Tolkien, pero el director Peter Jackson y su equipo de escritores en la trilogía de El Hobbit, Fran Walsh y Philippa Boyens, la crearon para expandir el mundo de los Elfos del Bosque Negro - y para traer más energía femenina a un universo narrativo dominado por los hombres.
"Tauriel es la comandante de la Guardia de Elfos. Ella es una Elfo Sylvan, lo que significa que es de un orden mucho más inferior que los elfos que vimos en El Señor de los Anillos. Ella no tiene el mismo tipo de status que Arwen o Galadriel o Elrond o Legolas, ella es mucho más humilde. Como que va un poco en contra del orden social establecido por los elfos".
Tauriel no sólo es una feroz guerrera; ella tiene un lado tierno también.
"Definitivamente tendrá una historia de amor," dice Evangeline.
"No puedo revelar mucho al respecto, pero aunque no es algo en lo que se centren mucho, está presente y es importante, y mueve a Tauriel, su historia y sus acciones".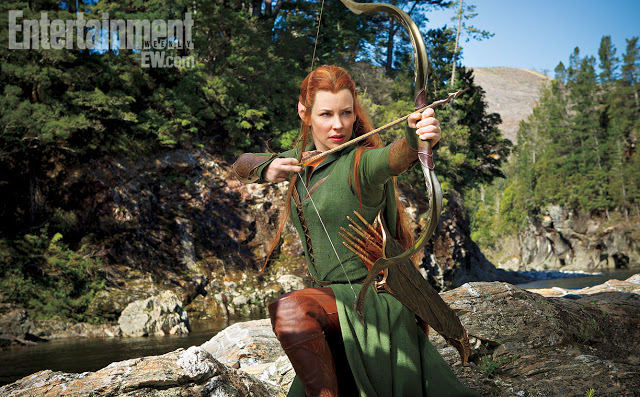 Al ser preguntada por los rumores de que su personaje tendría un romance con Legolas, interpretado por Orlando Bloom, Evangeline no lo confirmó ni lo desmintió, diciendo:
"La relación de Tauriel con Legolas es significativa. Se conocen desde que eran niños, y el padre de Legolas, el rey elfo Thranduil, tiene una debilidad por Tauriel y ve algo muy especial en ella."
"Así que si han crecido juntos y su padre tiene un lugar muy especial en su corazón para esta joven mujer que además es una fantástica guerrera, creo que es difícil no fijarse en ella.", se ríe Evangeline.
"Eso es todo lo que te puedo decir"
Evangeline está consciente de que algunos fans puristas de Tolkien están un poco escépticos con respecto a la incorporación de su personaje
"Sin duda sé que habrá personas que odiarán totalmente a Tauriel, que pensarán que no debería estar en la película, que es una traición a Tolkien, y sin importar lo que haga, no estará bien."
"Habrá de todo entre eso y la gente que la adorará y pensará que es genial que la hayan añadido a la película. igual estoy preparada para eso luego de haber estado en Lost, ´porque teníamos ávidos fans que fueron realmente extremos con sus sentimientos con la serie y sus personajes. Pero creo que si hay alguien que sabe cómo respetar a Tolkien, ese es Peter, Fran y Phil. Y Tauriel encaja perfectamente en ese mundo."
Traducido desde Entertainment Weekly.