Adelantos subtitulados en español, fotos y sinopsis de The Walking Dead 11x15 "Trust" , que se estrena el domingo 3 de abril de 2022 en AMC y Star+ Latinoamérica, y una semana antes, el 27 de marzo en AMC+.
Sinopsis
The Walking Dead S11E15 "Trust": Hornsby inspecciona la carnicería humana acumulada en el complejo de apartamentos Riverbend. Él sabe que algo no cuadra y está determinado a probarlo. Daryl, Gabriel, Aaron y Maggie tratan de estar un paso adelante de él.
A medida que se revelan los secretos, se cruzan los límites y se ofrece un inesperado nuevo trabajo. Ezekiel también tiene un secreto, que espera compartir con Carol.
El episodio está dirigido Lily Mariye y escrito por Kevin Deiboldt. [x]
Promo de TWD 11x15 (Subtítulos en Español)
Imágenes promocionales de The Walking Dead Temporada 11 Episodio 15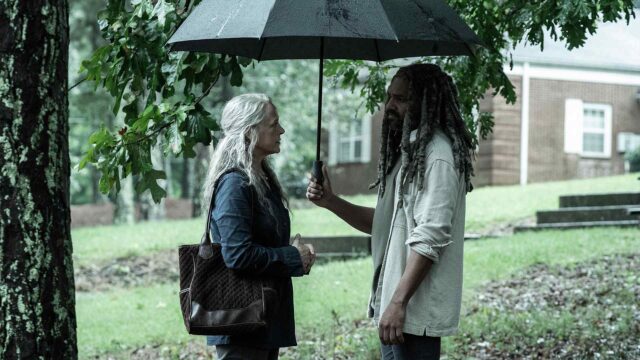 The Walking Dead S11E15 "Trust", se estrena el 27 de marzo de 2022 en el servicio de streaming AMC+ (en Estados Unidos), y en televisión el domingo 3 de abril en AMC Estados Unidos y en Star+ Latinoamérica.
En España, el estreno es el lunes 4 de abril en FOX España.