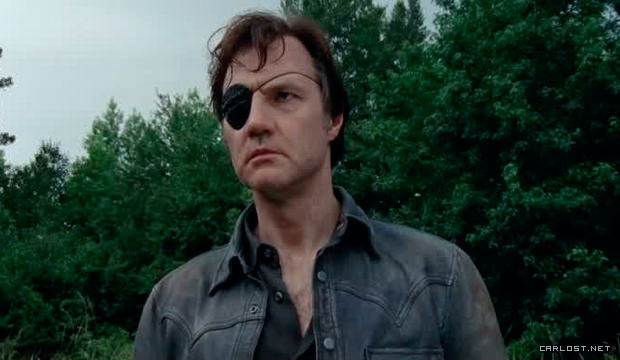 ACTUALIZADO: Nueva promo con SPOILERS
Luego del regreso del Gobernador, ya tenemos promos subtituladas en español del próximo capítulo de The Walking Dead 4.07 "Dead Weight", el séptimo episodio de esta cuarta temporada, y que corresponde al penúltimo capítulo antes del final de media temporada.

Sinopsis:
Algo nuevo se desata en un campamento en las afueras de la prisión; la llegada de nuevos miembros podría perturbar la paz.
Agrego aqui al principio la nueva promo de FOX Brasil, la cual contiene escenas con bastantes SPOILERS
En la promo se puede ver como el Gobernador golpea con el palo de golf a Martinez, y en otra escena se puede ver como lo entrega a los caminantes que se encuentran en una fosa. ¿Morirá Martinez en este capítulo?
Promo #1 AMC Subtitulada en Español
Luego de que el Gobernador encontrara nueva familia con la cual viajar (ante la cual se hace llamar Brian), termina volviéndose a encontrar con Martinez, quien ahora es el lider de un nuevo grupo.
¿Cómo se tomará esto el Gobernador? ¿Será capaz de soportar no ser el líder?
Promo Nueva Zelanda Subtitulada en Español
(Gracias a Yred)
En esta nueva promo podemos ver muchas nuevas escenas, y al final vemos al Gobernador acechando la prisión y ¡apuntando a Rick y Carl! Además en la ultima escena se puede ver que tiene un gran tanque de guerra.
Recuerden que después de este capítulo se viene el 4x08 (final de media temporada). ¿El fin de la prisión?
Promo FOX Latinoamérica Subtitulada en Español
Este capítulo de
The Walking Dead
se estrena en AMC el Domingo 24 de Noviembre, en FOX España el Lunes 25 de Noviembre y en Latinoamérica el Martes 26 de Noviembre a través del Canal FOX.