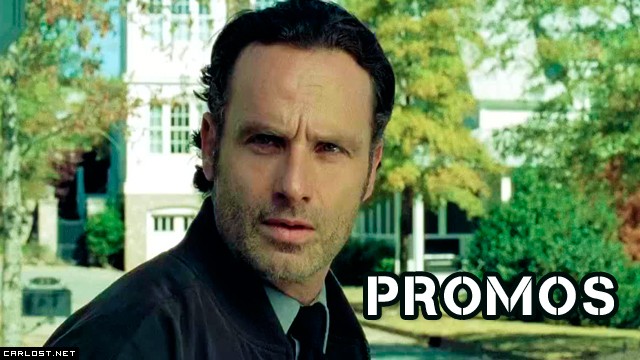 ACTUALIZADO
Promos y sneak peeks subtitulados en español de The Walking Dead 5x15 "Try" (Intenta), el penúltimo capítulo de esta quinta temporada, y que se estrena el Domingo 22 de Marzo en AMC y el Lunes 23 de Marzo en canal FOX.

The Walking Dead S05E15 "Try"
Sinopsis: Cuando la vida dentro de los muros comienza a parecerse a la vida del exterior, el grupo se da cuenta de que la vida protegidos puede no ser posible.
+ Adelantos: Fotos Promocionales
Fecha de emisión: Domingo 22 de Marzo de 2015
La promo comienza con Rick y Deanna frente a cuatro tumbas. Suponiendo que dos corresponden a Noah y Aiden, ¿de quiénes creen que sean las otras dos restantes?
La voz de Rick de fondo dice: "Ellos no saben los que están haciendo. ¿Sus reglas? Nosotros no las obedecemos. Ninguna de ellas."
PROMO AMC #1

En otra escena vemos a Daryl afuera de Alexandria, de noche en medio de la vegetación, mientras que a lo lejos logra ver una luz (¿una fogata?).
PROMO FOX LATINOAMÉRICA

En Alexandria, algo ha pasado. Vemos a algunos miembros corriendo por las calles, mientras que Sasha desde la torre de vigilancia apunta con la mira de su rifle a una mujer que corre, y luego dispara.
PROMO TV2 (NUEVA ZELANDA)

SNEAK PEEK #1

En esta primera escena vemos a Michonne con pocas ganas de usar el uniforme. Alguien golpea a la puerta y se trata de Rosita.
Michonne le pregunta cómo se encuentra Tara luego del accidente sufrido. Rosita le dice que está estable, resistiendo.
Rosita le demuestra su preocupación por Sasha, ya que cree que pasó la noche en la torre, y pese a que ahora Abraham está vigilando, Sasha no ha regresado y nadie la ha visto.
SNEAK PEEK #2 mostrado durante Talking Dead

En este segundo adelanto vemos a Carl y Enid conversando en el bosque. Carl trata de conocer más a Enid y saber qué le pasó antes de llegar a Alexandria. Enid le dice que no importa lo que haya pasado, pero Carl le dice que si importa, que a él también le han pasado cosas malas. Justo en ese momento se escuchan ruidos de walkers, y ambos se esconden dentro de árbol, muy cerca el uno del otro.