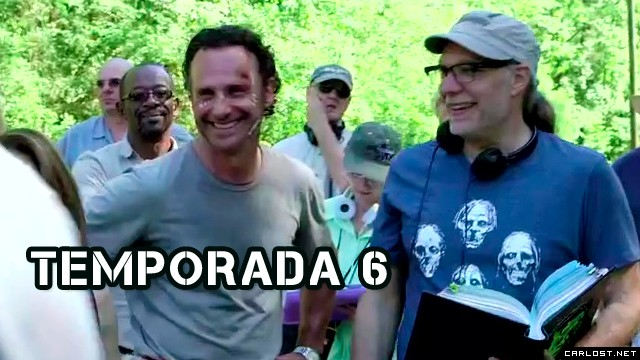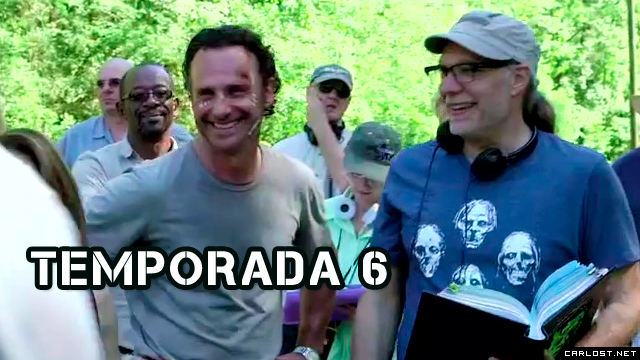 Nuevo video de la sexta temporada de The Walking Dead, con imágenes desde el set de rodaje del 6x01, el primer capítulo de la nueva temporada que se estrena en Octubre de 2015.

En el video, Michael Cudlitz, quien interpreta a Abraham Ford en la serie, es el encargado de pasear por el set donde se graba la sexta temporada, y entrevistar a sus compañeros de elenco, y en donde al final incluso vemos un beso entre Norman Reedus (Daryl) y Danai Gurira (Michonne).
Algunas escenas que podemos ver al comienzo del video son del grupo en el exterior de Alexandria con palas. Vemos a Andrew Lincoln (Rick) y Alexandra Breckenridge (Jessie) bastante coquetos, a Steven Yeun (Glenn) preparándose para grabar, y Norman Reedus (Daryl) como siempre posando para fotos.
Michael Cudlitz adelanta que el primer capítulo de la sexta temporada es un gran capítulo.
Sonquea Martin-Green (Sasha) dice que está bastante entusiasmada por saber cómo continúa la historia, ya que el final de la quinta temporada los dejó en una situación bastante interesante. Algo que le gustaría es saber más acerca de The Wolves.
Lennie James (Morgan) dice que ha sido bastante surrealista su regreso a la serie, ya que siente como si nunca se hubiera ausentado.
Michael Cudlitz le comenta lo hábil que se veía con el palo en el capítulo final de la quinta temporada, y que si sabremos más acerca de su historia y como se entrenó, a lo que Lennie le responde que cree saberlo, pero no está seguro.
Lauren Cohan (Maggie) comenta que apenas regresan al set y se ven todos sudados y tomando café, se da cuenta que ya ha vuelto a la vida de grabaciones.
Christian Serratos (Rosita) dice que está muy feliz de volver a grabar y agradece los fans por todo su apoyo, ya que todos lo que el elenco hace es para los fans.
La siguiente en ser entrevistada es Danai Gurira, quien dice que es genial volver a grabar, ya que son una familia y está muy entusiasmada por esta nueva temporada. No alcanza a terminar de responder cuando aparece Norman Reedus y frente a la cámara la besa en la boca.
Michael: "¿Y tú Norman, estás entusiasmado por volver?"
Norman: "Ahora si lo estoy" (Luego de besar a Danai)