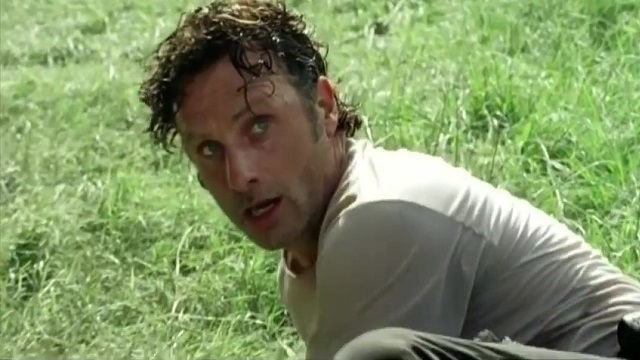 Promos y Sneak Peeks subtitulados en español de The Walking Dead 6x08 "Start to Finish", el final de primera mitad de esta sexta temporada, y que podremos ver el Domingo 29 de Noviembre, día en que se estrena en AMC y FOX 1, y el Lunes 30 de Noviembre en FOX Latinoamérica / FOX España.

Como buen final de mitad de temporada, el próximo capítulo de The Walking Dead 6x08 ¡se viene repleto de acción!
Luego de que cae la torre y rompe el muro de Alexandria, los caminantes comienzan a invadir, y en el adelanto vemos a varios personajes en peligro, entre ellos Maggie, que intenta subir a una escalera para escapar de los caminantes.
Promo Subtitulada

En otra escena podemos ver a Eugene, Tara y Rosita viendo como los caminantes se encuentran golpeando unas ventanas frente a ellos.
Sneak Peek #1: Glenn y Enid

En el primer sneak peek podemos ver a Enid y Glenn en las afueras de Alexandria luego del derrumbe de la torre. Glenn ve la situación y ya tiene en mente una forma de ingresar a Alexandria, mientras que Enid cree que ya todo está perdido. Glenn le dice que nada está perdido, la gente sigue viva, sus amigos, personas que se preocupan por ella, incluso le cuenta que su esposa embarazada está allí.
Glenn le deja bien claras las cosas a Enid: Si simplemente huirá, y se olvidará de todo, entonces este es el momento, pero que tenga claro que así es como ella perderá a las personas. Incluso cuando ya no están.
Sneak Peek #2: Los caminantes ingresan a Alexandria

En este segundo sneak peek, mostrado durante Talking Dead, podemos ver el momento exacto luego de que se derrumba la torre. Los caminantes ingresan a Alexandria y Rick en el suelo los tiene frente a él.
Luego de este capítulo, The Walking Dead entrará en receso y regresará el 14 de Febrero de 2016.