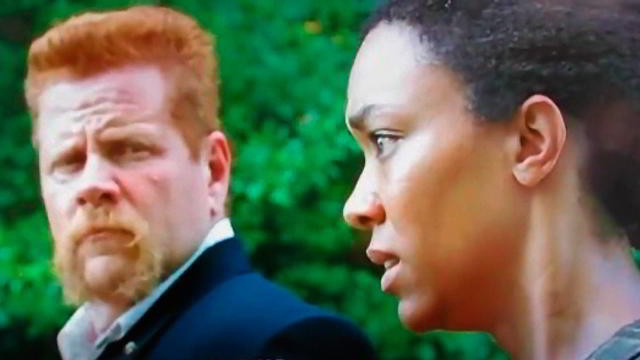 Una nueva escena de The Walking Dead 6x09 "No Way Out" con Daryl, Sasha y Abraham ha sido revelada en una reciente promo de AMC, para promocionar el regreso de la serie.

La promo es más parecida a un sneak peek, ya que parece ser solo una escena (tal vez editada), y podría ser la primera escena del capítulo.
En ella vemos a Daryl, Abraham y Sasha en medio de la carretera luego de haberse bajado del camión.
Daryl le entrega su arma al hombre que lidera al grupo de motoristas, que luego les dice que ellos se presentan usualmente matando inmediatamente a uno de los miembros del grupo que encuentran.
Sasha les dice que no tienen que hacer eso, pero Abraham le dice que se calle.
Sasha se muestra enojada y le dice a Abraham que está hablando con el hombre, pero este hombre la corrige y les deja en claro a todos que no es así, que no está en plan de diálogo.
La segunda parte de esta sexta temporada The Walking Dead continúa con el episodio 6x09 "No Way Out" que se estrena el Domingo 14 de Febrero en AMC (Estados Unidos) y FOX1 (Latinoamérica), y el Lunes 15 de Febrero en canal FOX (Latinoamérica / España).