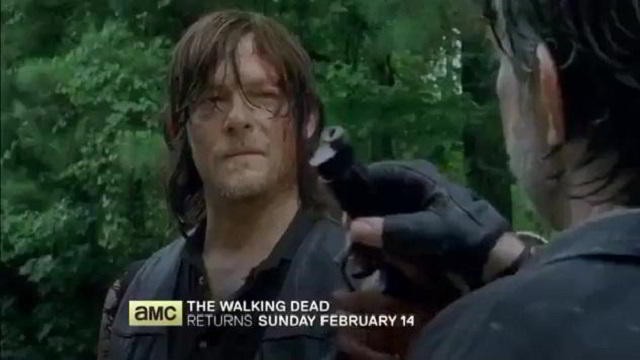 Esta noche se ha emitido en AMC la primera promo del regreso de The Walking Dead 6x09 "No Way Out", que se estrena el Domingo 14 de Febrero en AMC y FOX1.

Sin más preámbulos, aquí está el video en el que podemos ver escenas del regreso de The Walking Dead.
Más abajo las capturas de cada escena mostrada en el video.
The Walking Dead 6x09 Promo Subtitulada en Español (2016)

The Walking Dead 6x09 Promo Subtitulada 2016 (Mid Season Premiere)
ANÁLISIS SIN SPOILERS
(Si te pasaste al lado oscuro, puedes ver los Spoilers del 6x09 acá)
Vamos analizando la promo cuadro a cuadro, para encontrar algunos detalles que pasan muy rápido en el video.
Al principio nos muestran algunas escenas para recordar en qué quedó la serie.
La salida de Rick y compañia desde la casa a través de la horda de caminantes.
En la escena post-créditos, vimos  a los hombres de Negan interceptando a Daryl, Abraham y Sasha en medio de la carretera.

En la promo vemos que efectivamente Daryl se acerca al líder y le entrega su arma.
Mientras que las escenas de Alexandria las cosas no están para nada mejor. Los caminantes están por todos lados y por lo visto el plan de Rick no está resultando como lo planearon.
Michonne con su katana ensangrentada, y Rick rodeados de caminantes.
En esta secuencia podemos ver a Michonne, y detrás de ella a Spencer y Heath.
Rick y Carl con cara de OMG, ¡¿qué habrán visto?!
Maggie, al parecer desde arriba de la torre gritando desesperada por Glenn, que en otra de las escenas lo vemos en medio de la horda de caminantes de Alexandria disparando.
Rick y su machete haciendo de las suyas.
Y finalmente Rick desatando toda su furia. 
Pareciera que sostiene algo, pero en realidad es su poncho que se levanta con el rápido movimiento que realiza con el machete.