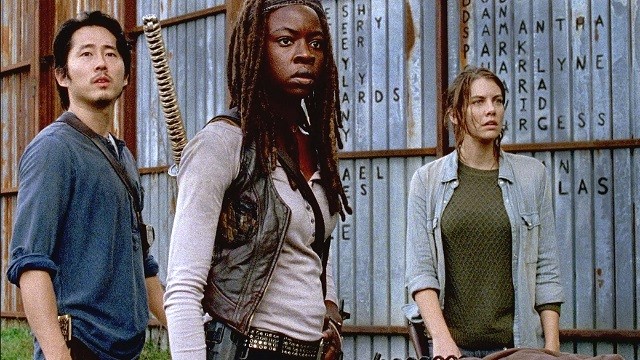 Promos y sneak peeks de The Walking Dead 6x15 "East", el penúltimo capítulo de la temporada, que se estrena el Domingo 27 de Marzo en AMC Estados Unidos y FOX1 Latinoamérica, y el Lunes 28 de Marzo en canal FOX (España y Latinoamérica)

Una vez más se ha filtrado una promo del próximo capítulo de The Walking Dead, esta vez en el canal OCS de Francia.
* Actualizada con la versión de AMC, que resultó ser igual a la filtrada:
Sinopsis oficial: Alexandria entra en alerta luego de darse cuenta que alguien ha desaparecido. Varios grupos de búsqueda se forman, pero lo que encuentran no es lo que esperaban.
En Dailymotion:
Promo AMC #1 Subtitulada en Español

La sinopsis del capítulo dice que "Alguien desaparece en Alexandria". Esta persona como revela la promo es Carol, que le ha dejado una nota a Tobin y ha abandonado Alexandria.
Por su parte, Daryl también abandona Alexandría solo, a lo que Glenn comenta "Daryl va a hacer que lo maten".
Rick se ve preocupado y dice con voz firme "Nadie más sale. Todos prepárense para una pelea."
Sneak Peek #1: Rick & Michonne (Richonne)

En esta escena podemos ver que el romance Richonne va mejor que nunca.
Rick y Michonne desnudos entre las sábanas, comparten una jugosa manzana, que Jesús trajo desde Hilltop.
Rick quiere seguir acurrucado con Michonne, pero ella le dice que se comprometió a ayudar a Maggie junto a Glenn, y que no quiere hacer enojar a una mujer embarazada.
Sneak Peek #2
Bonus: La escena más comentada del 6x14

Más videos del 6x14, y el capitulo completo subtitulado acá
En Youtube:
Promo AMC #1 Subtitulada en Español