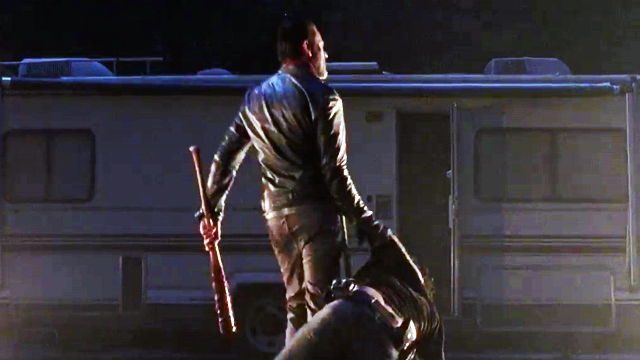 Ya podemos ver un poco más de 3 minutos del capítulo estreno de la séptima temporada de The Walking Dead 7x01 "The Day Will Come When You Won't Be"

Por estos días se está llevando a cabo la Comic-Con de Nueva York, y por supuesto The Walking Dead estuvo presente, en un panel realizado en el Madison Square Garden, y fue aquí donde se presentó un nuevo adelanto de la séptima temporada, y que corresponde a una escena que sucede después del asesinato que comete Negan.
Acá les dejo el adelanto subtitulado. Fíjense muy bien en el díalogo...
Hay muchos juegos de palabras. Negan le dice que es necesario tener una 'mano derecha', refiriéndose a un compañero que lo apoye.. Le pregunta a Rick si él tiene uno o si acaso se lo acaba de matar.
Cuando ve las armas que trae Rick consigo, Negan elige el hacha y se retira con Rick.
¿Será que Rick no solo perderá a un compañero/mano derecha, sino también su propia mano?
Ya no queda nada para poder ver el capítulo, que se estrena el Domingo 23 de Octubre en AMC y FOX Premium, y el Lunes 24 de Octubre en Canal FOX.