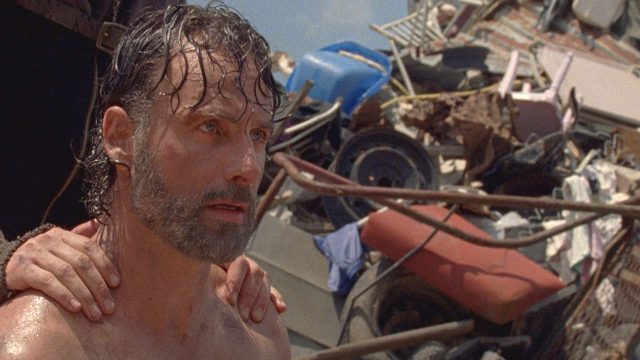 Promos y sneak peeks subtitulados del próximo capítulo de The Walking Dead 8x07 "Time for After", que se estrena el Domingo 3 de Diciembre en AMC y FOX Series Premium, y el Lunes 4 de Diciembre en canal FOX Latinoamérica y FOX España.

Sinopsis oficial: Negan debe contar con la ayuda de su gente para resolver un gran problema que enrenta el Santuario, mientras que Rick y el grupo continúan con su plan.
* Si no ven los subtítulos, deben activarlos en el reproductor.
PD: Acabo de notar que al menos en mi teléfono celular, ahora aparece una barra azul de facebook sobre el video que no lo deja ver bien, pero si le dan play, y luego giran su teléfono en modo horizontal, el video se ve en pantalla completa y con subtítulos.
The Walking Dead 8x07 Promo AMC (Subtitulada en Español)
The Walking Dead 8x07 Sneak Peek #1 (Subtitulado en Español)
En este primer sneak peek, Negan conversa con Eugene, y le dice que pronto las cosas se pondrán feas, que mucha de su gente morirá, pero él, el mismísimo Negan obviamente no.
Le dice a Eugene que no lo quiere ver morir, que él sabe que es fuerte, que su inteligencia lo hace fuerte, y se lo reconoce.
The Walking Dead 8x06 Sneak Peek #2 (Subtitulado en Español)
En este segundo adelanto, Dwight trata de convencer a Eugene de que el Santuario y los Salvadores están acabados. Que Negan está acabado, y sólo le pide una cosa: Que no haga nada, que espere y deje que las cosas sigan su propio curso.
The Walking Dead 8x06 Sneak Peek #3 (Subtitulado en Español)
En este nuevo adelanto podemos ver a Rosita y Michonne discutir acerca del plan que tiene Daryl, junto a Tara y Morgan.
Mientras que Daryl. Tara y Morgan están de acuerdo en ejecutar el plan de estrellar un camión contra los caminantes y llevarlos hasta dentro del Santuario, Rosita y Michonne consideran que es un plan arriesgado, ya que algo podría salir mal. Que sería mejor esperar a Rick que está hablando con la gente del depósito de chatarra.
Rosita finaliza su argumento con la frase: "I believe in Rick Grimes" ("Yo creo en Rick Grimes")