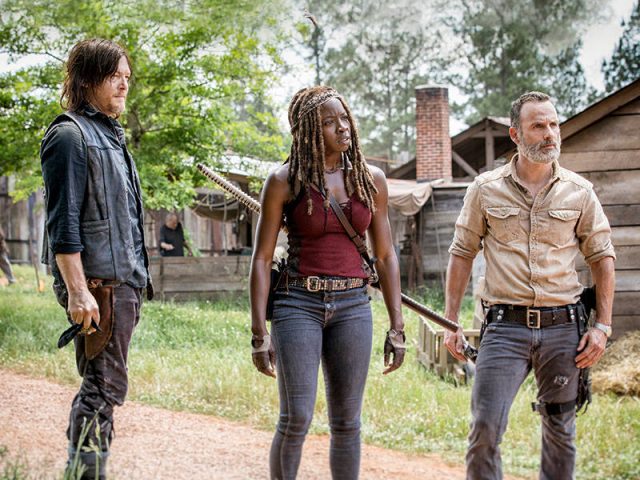 Ya puedes ver online las promos, sneak peeks y fotos promocionales de The Walking Dead 9x01 "A New Beginning" (Un Nuevo Comienzo), que se estrena el domingo 7 de octubre en AMC Estados Unidos.

TWD 9x01 "A New Beginning" (Un Nuevo Comienzo)
Sinopsis: Rick y su grupo tienen una riesgosa salida en Washington, DC para buscar los artefactos que necesitarán para construir la civilización que él y Carl imaginaron.
The Walking Dead 9x01 Promos
Tal como lo indica el titulo del episodio, esta nueva temporada es un nuevo comienzo para Rick y el resto de los personajes. En conjunto deberán poner en práctica el sentido de comunidad para salir adelante.
Como pueden darse cuenta por las promos, este episodio comienza con un salto temporal, ya que han pasado varios meses desde que Rick se enfrentó a Negan, de hecho, el bebé de Maggie ya ha nacido,
The Walking Dead S09E01 Sneak Peek
En esta escena del capítulo, vemos a una de las primeras víctimas de la nueva temporada, quien por querer ayudar, termina siendo mordido por un caminante.
Fotos promocionales de The Walking Dead 9x01
Fotos Behind The Scenes (BTS) de The Walking Dead 9x01
The Walking Dead 9x01 "A New Beginning" (Un Nuevo Comienzo), se estrena el domingo 7 de octubre en AMC Estados Unidos, y el lunes 8 de octubre en canal FOX (Latinoamérica / España)