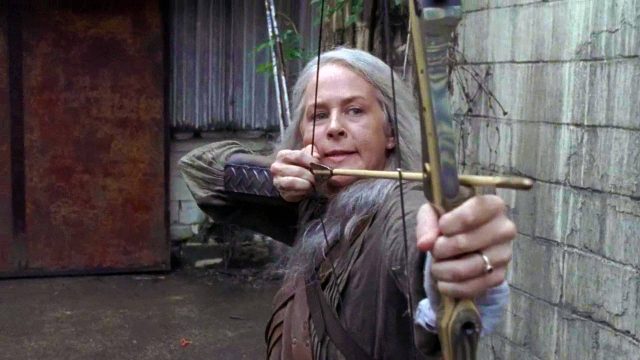 Ya puedes ver online la promo subtitulada, sneak peeks y fotos promocionales de The Walking Dead 9x06 "Who Are You Now?" (¿Quién eres ahora?), que se estrena el domingo 11 de noviembre en AMC Estados Unidos y FOX Premium Series, y el lunes 12 de noviembre en canal FOX (Latinoamérica / España).

TWD 9x06 "Who Are You Now?" (¿Quién eres ahora?)
Sinopsis: Los sobrevivientes encuentran caras desconocidas fuera de la seguridad de los muros de su comunidad, y deben decidir si se puede o no confiar en este nuevo grupo.
The Walking Dead 9x06 Promo (Subtítulos en Español)
Pero eso no es todo, ya que esta semana AMC nos trae un tráiler con escenas de los 3 próximos episodios: 9x06, 9x07 y 9x08 (Midseason Finale).
The Walking Dead 9x06 + 9x07 + 9x08 Tráiler
Al final del episodio 9x05 vimos un salto temporal, que deja la historia varios años en el futuro.
En el adelanto dicen que 'los caminantes están evolucionando', mientras que Judith Grimes, lleva al grupo que encontró en el episodio 5 hasta Alexandria, y les dice: 'Estarán seguros aquí. Se los prometo.'
The Walking Dead 9x06 Sneak Peek #1
El padre Gabriel y Rosita conversan acerca del nuevo grupo de sobrevivientes. Él cree que son buenas personas, sin embargo Michonne al parecer no cree lo mismo.
El padre Gabriel dice que estuvo hablando con Eugene acerca de cómo amplificar una señal. Quieren poder comunicarse por radio con quien sea que se encuentre cerca, pero Rosita le dice que eso es muy peligroso, y que Michonne no lo aceptará, ya que podrían ser escuchados por cualquier tipo de persona.
Fotos promocionales de The Walking Dead 9x06
The Walking Dead 9x06 "Who Are You Now?" (¿Quién eres ahora?), se estrenará el domingo 11 de noviembre en AMC Estados Unidos y FOX Premium Series, y el lunes 12 de noviembre en canal FOX (Latinoamérica / España)