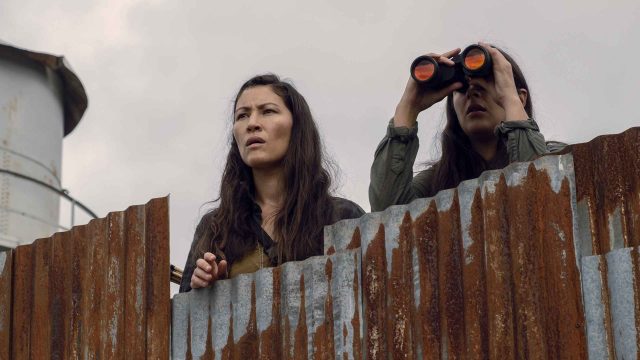 Promo subtitulada en español, sneak peeks, fotos y sinopsis del próximo episodio de The Walking Dead 9x10 "Omega", que se estrena el domingo 17 de febrero en AMC.
Sinopsis
¿Un cautivo o un refugiado? Una nuevo arribo a Hilltop brinda nuevos detalles sobre el líder de un grupo de salvajes que usan máscaras.
Un grupo de búsqueda se embarca en una misión audaz para encontrar a dos amigos desaparecidos.
The Walking Dead 9x10 Promo (Subtítulos en Español)
Tara y su grupo se encuentran en el bosque y al parecer los Susurradores la observan entre los árboles.
Lydia conversa con Daryl, y le dice que su madre no es alguien con quien se mete. Daryl le pregunta dónde vive, a lo que Lydia le responde: 'Agradece que no sabes'.
TWD 9x10 Sub Español (Sneak Peek #1)
Un grupo de habitantes de Hilltop encuentran los caballos de Alden y Luke, pero ninguna señal de Aiden o Luke.
TWD 9x10 Sub Español (Sneak Peek #2 - Talking Dead)
Henry conversa con Lydia (quien está muy interesada en obtener información) y le cuenta que viene de otra comunidad llamada El Reino, y que se encuentra como a un día de viaje.
Daryl, que seguramente estaba escuchando todo esto, entra y saca a Henry de la celda.
Fotos promocionales de The Walking Dead Temporada 9 Episodio 10
Fotos por: Gene Page/AMC