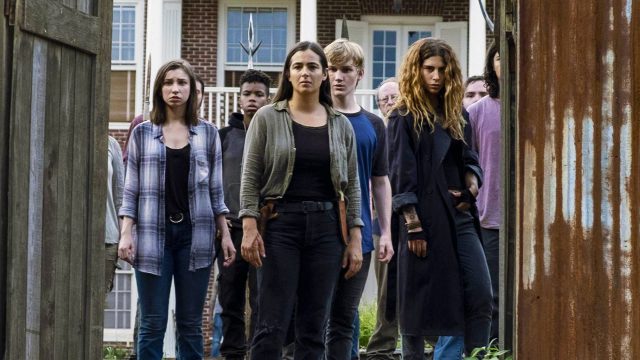 Promo subtitulada en español, sneak peeks, fotos y sinopsis del próximo episodio de The Walking Dead 9x11 "Bounty", que se estrena el domingo 24 de febrero en AMC.
Sinopsis
El grupo salvaje liderado por Alpha (interpretada por la actriz
Samantha Morton) se enfrenta a Hilltop en un desgarrador intento de recuperar a su hija.

Una salida en busca de suministros para el Reino se convierte en una misión peligrosa.
The Walking Dead 9x11 Promo (Subtítulos en Español)
En el próximo capítulo de The Walking Dead, Alpha exige que le entreguen a su hija, pero Daryl se niega, generando un conflicto entre los Susurradores y Hilltop.

Mientras tanto, Carol, Ezekiel, Jerry y otros miembros del Reino, salen en busca de suministros.

TWD 9x11 Sub Español (Sneak Peek #1)

En esta primera escena, Daryl le comenta al resto que sabe lo que Alpha le ha hecho a Lydia, que no se la pueden entregar, pero Magna le recuerda que tal vez podrían tener a Luke y Alden.
Magna le pregunta a Alpha si ya los mató, a lo que Alpha le responde que no, y que quiere saber quién es el líder.
Nadie responde, solo Daryl que dice: ¿Qué diablos importa?

Alpha les habla a todos en Hilltop entonces. Les dice que cruzaron hacia sus tierras y que mataron a su gente, pero que no habrá conflicto. Que eso es todo lo que dirá, que ahora le traigan a su hija, o de lo contrario si habrá conflicto.
TWD 9x11 Sub Español (Sneak Peek #2)

Daryl se acerca a hablar con Alpha, y le dice que él sabe que lo que ella quiere es buscar pelea, pero que en Hilltop tienen suficiente armamento para quemarlos a todos.

En ese momento comienza a llorar un bebé. Es una de los miembros de los susurradores que lleva un bebé en brazos.
Daryl le dice que cómo se les ocurre traer un bebé hasta allí.
Alpha le dice que su grupo son animales, y que los animales viven allí, y que tienen bebés.
"¿Qué estabas diciendo? ¿Encender todo esto? " le pregunta Alpha.
"Parece que quieren conflicto, pero yo no, así que estoy proponiendo un intercambio" continúa diciendo Alpha.

En ese momento unos miembros de los Susurradores le quitan las máscaras a otros dos miembros, y resultan ser Luke y Alden amordazados.

Fotos promocionales The Walking Dead Temporada 9 Episodio 11
Fotos por: Gene Page/AMC