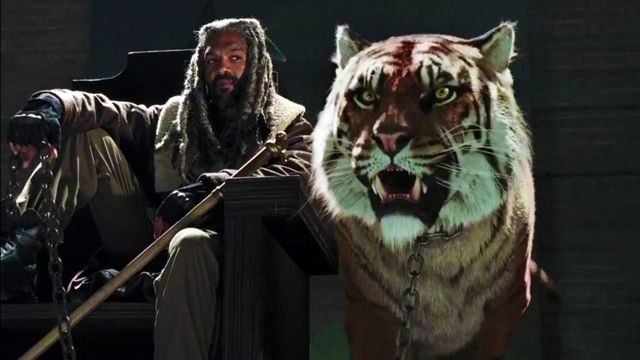 ¡Ya está aquí! El tráiler oficial séptima temporada de The Walking Dead, con subtítulos en español.

Hoy durante el panel de The Walking Dead en la Comic-Con de San Diego, se ha estrenado el tráiler oficial de la séptima temporada, y también se ha confirmado que la fecha de estreno será el Domingo 23 de Octubre en AMC, y el Lunes 24 de Octubre en canal FOX.
El tráiler tiene una duración cercana a los 3 minutos y presenta las primeras escenas de la séptima temporada.
Una de las sorpresas es la aparición de Ezekiel (interpretado por el actor Khary Payton), un favorito de los fans del cómic.
Ezekiel solía trabajar en un zoológico, en donde formó un lazo con una tigresa llamada 'Shiva', y cuando ocurrió el apocalípsis, él la rescató y sobrevivió junto a ella, hasta llegar a ser el líder de un grupo llamado "El Reino" el cual reside en una escuela.
Ezekiel es conocido por no simpatizar con Negan y los Salvadores, por lo que podría ser un valioso aliado para Rick y el grupo.
¿Qué les pareció el tráiler? ¿Qué es lo que más esperan ver en esta temporada?