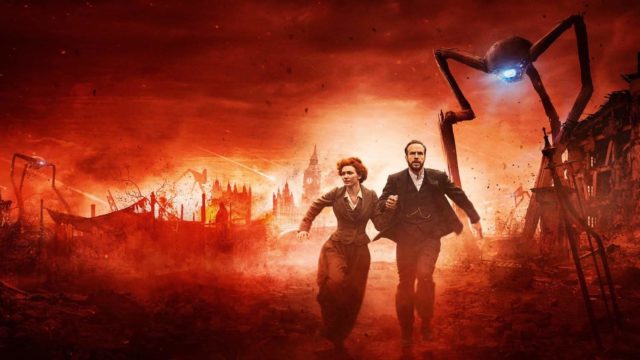 Ya se ha estrenado el tráiler de la miniserie The War of the Worlds (La Guerra de los Mundos), una nueva adaptación de la novela de H.G Wells, producida por BBC.
Sinopsis
Inglaterra, enero de 1906. El impacto de un gran meteorito desencadena la invasión del planeta Tierra por una raza alienígena desconocida. Para George y Amy que trataban de comenzar una nueva vida después de que él abandonase a su esposa, todo se detiene cuando la lucha por la supervivencia es lo único que cuenta. Junto al resto de la humanidad tratan de combatir a un enemigo despiadado dispuesto a conquistar el planeta y destruir a la raza humana.
"La novela de H.G. Wells se ha adaptado para la pantalla muchas veces, pero siempre ha tenido un ambiente contemporáneo y estadounidense. Esta es la primera versión que se desarrollará en Londres y sus alrededores durante el período eduardiano"

Craig Viveiros. director de la serie
"Quería hacer una versión de La guerra de los mundos fiel al tono y al espíritu del libro, pero que también se sintiese contemporánea, sorprendente y llena de emociones: una colisión de ciencia ficción, drama de época y horror".

Peter Harness, el guionista de la nueva serie
Tráiler de The War of the Worlds (BBC One) - Subtítulos en Español
La miniserie de 3 partes está protagonizada por Eleanor Tomlinson (Poldark, Loving Vincent) y Rafe Spall (Jurassic World: Fallen Kingdom, The Big Short) quienes encarnan a George y Amy, una pareja que no aparece en la novela original.

También forman parte del elenco Robert Carlyle (T2: Trainspotting, Once Upon a Time) como Ogilvyy, y Rupert Graves (Swimming with Men; Sherlock) como Frederick, el hermano de George.
Avance de La Guerra de los Mundos (#0 Movistar+ España)
¿Se ve buena no?

Lo único malo es que solo tiene 3 episodios, pero no sabemos aún la duración de cada parte.
¿Cuando se estrena la miniserie de La Guerra de Los Mundos?
En España, el primer episodio se estrenará a través de #0 de Movistar+ y sus plataformas digitales el viernes 11 de octubre de 2019 a las 22:00 hrs.
Sin embargo, algunos afortunados la podrán ver unos días antes, específicamente el domingo 6 de octubre, ya que se realizará su preestreno en el Festival de Cine de Sitges.
En Inglaterra debería estrenarse en Octubre también en BBC One, pero por el momento no se ha informado ninguna fecha.

Falta confirmar aún que cadena emitirá la serie en Latinoamérica, sino obligados a buscarla en internet.