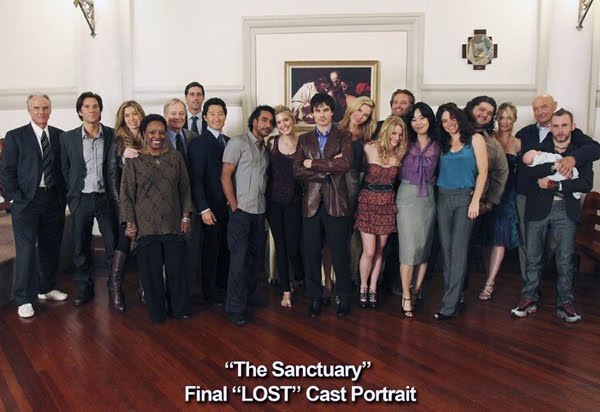 Un día como hoy, hace 2 años, se emitió el último episodio de nuestra querida serie LOST...

Recuerdo ese día como si fuera ayer. Como de costumbre, nos juntamos aqui en la página para verlo online al mismo tiempo que en Estados Unidos (gracias a los benditos streamings), esperando que no se nos desconectara el internet o que bloquearan los canales de JustinTV, y comentando en el chat cada minuto que faltaba.
Por suerte ese día todo salió bien y pudimos ver el final en vivo, obviamente con la calidad de una transmisión online, pero con la emoción de estar viendo el fin de una era, ni un minuto antes ni un minuto después... Hoy revisaba esa entrada (en donde luego agregué el capitulo subtitulado) y me he dado cuenta que tiene exactamente 108 comentarios!
El tiempo ha pasado y sigue estando ese vació que dejó Lost. Esa serie que te hacía querer que pasara rápido la semana para ver un nuevo episodio, y ver que sucedía con la isla, los otros, los extraños animales con logos de Dharma, la escotilla, los números, los susurros, el humo negro, la historia de amor de Desmond y Penny, Charlie y Claire, Sun y Jin, los apodos de Sawyer, las bromas de Hurley, el  cuarteto entre Sawyer, Kate, Jack y Juliet, el misterioso Locke y el frío Ben, y muchos otros personajes que todos recordamos siempre con cariño.
Esta página se creo por Lost, y una vez que la serie terminó decidí que debía continuarla, y así fui siguiendo la carrera del elenco. Así conocimos series como V (con Elizabeth Mitchell), FlashForward (con Sonya Walger y Dominic Monaghan), Person of Interest (con Michael Emerson), Alcatraz (con Jorge García) y próximamente 666 Park Avenue (con Terry O'Quinn), entre otras.
Tal vez nunca encontremos una serie que nos atrape como Lost, pero cada vez que veamos a alguien del elenco en una serie, pelicula o evento, recordaremos los buenos momentos que vivimos. Por mi parte seguiré tratando de actualizar la página con sus apariciones públicas, sus nuevos proyectos, además de otras series que consideremos que vale la pena seguir. Es por eso que si alguien quiere publicar en la página, sumar una nueva serie, aportar con una noticia, o lo que deseen, no duden en escribirme
Y para recordar, el especial "Aloha to Lost" emitido luego del final:

Namaste!