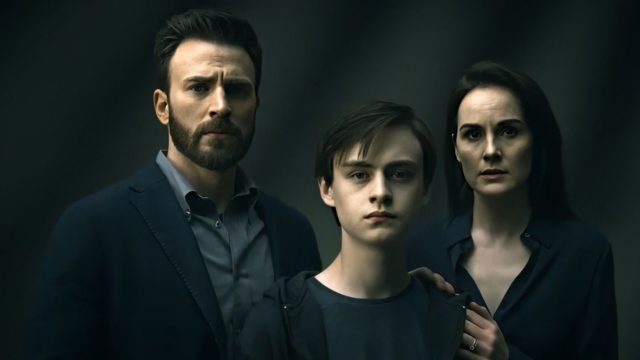 Tráiler subtitulado en español de la nueva mini serie de Apple TV+ "Defending Jacob", protagonizada por Chris Evans, Michelle Dockery y Jaeden Martell, que se estrena el 24 de abril.
Chris Evans, el actor que ha interpretado en los últimos años al Capitán América en las diversas películas de Marvel, llega a la pantalla chica, en una nueva serie de drama legal.
¿De qué trata 'Defending Jacob'?
La nueva serie 'Defending Jacob" está basada en la novela criminal del mismo nombre de 2012, del autor William Landay.
Cuenta la historia del asistente de fiscal de distrito, Andy Barber (Chris Evans) y lo que su familia debe pasar, cuando su hijo Jacob (Jaeden Martell) de sólo 14 años es acusado de asesinar a un compañero de clase.
Michelle Dockery interpreta a la esposa de Andy, Laurie, quien sufre su propio aislamiento y trauma a raíz de la acusación de Jacob.
Defending Jacob - Tráiler (Subtítulos en Español)
* Recuerden activar los subtítulos en el reproductor.
"Puedes ser un buen hombre, o puedes ser un buen padre..." ¿Hasta qué punto llegará el padre de Jacob para defenderlo?
La novedad de ver a Chris Evans en una serie actual ya me tenía seguro de verla, pero después de ver el tráiler me dan más ganas aún, así que sin duda estará en las recomendaciones de series para ver en abril.
Este es el elenco de 'Defending Jacob'
A Chris Evans, se suman Michelle Dockery, conocida por su papel de Lady Mary Crawley en la serie de televisión Downton Abbey, y Jaeden Martell quien seguro has visto como Bill Denbrough en las películas de IT.
También forman parte del elenco: Cherry Jones (24, Ocean's Twelve), Pablo Schreiber (Orange is The New Black), Sakina Jaffrey (House of Cards), Betty Gabriel (Get Out), y J. K. Simmons (Whiplash, Oz).
¿Cuándo se estrena?
Defending Jacob está creada y escrita por Mark Bomback (War for the Planet of the Apes), y dirigida y producida por Morten Tyldum (The Imitation Game).

La miniserie tendrá 8 episodios y se estrenarán a partir del 24 de abril de 2020.