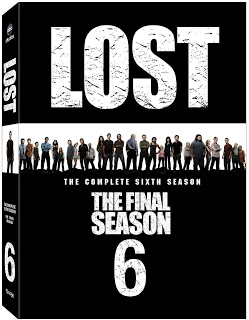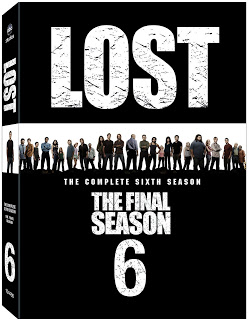 Aquí tenemos el diseño final de la colección de DVD/Blu-ray para la sexta temporada y la serie completa.
A continuación, detalles sobre el contenido de los DVDs.

LOST - LA SEXTA TEMPORADA COMPLETA: Contenidos
- Todos los capítulos de la sexta temporada
- Tomas falsas y escenas eliminadas
- Comentarios de audio para cuatro episodios (LA X, Dr. Linus. Ab Aeterno y Across The Sea)
- The End: Elaborando la temporada final. Acompaña al equipo de LOST con productores de algunas de las series más longevas de la televisión que analizan los desafíos de terminar una serie tan conocida.
- El viaje del héroe. ¿Qué hace al héroe? ¿Qué supervivientes del vuelo 815 de Oceanic son verdaderos héroes? Se exploran estas cuestiones.
- See you in another life, brotha. Descubre los misterios de los intrigantes flash-sideways de esta temporada.
-'LOST on Location'. Historias del set, tras las cámaras, con entrevistas con los actores y el equipo.
- En exclusiva para Blu-ray y DVD: Adéntrate en el mundo de LOST con un nuevo capítulo de la historia de la isla creado por los productores ejecutivos Damon Lindelof y Carlton Cuse.
LOST - LA COLECCIÓN COMPLETA: Contenidos
- Todos los capítulos de la serie (de la temporada 1 a la 6)
- Más de 30 horas de material extra de todas las temporadas (material de las 5 primeras temporadas ya publicado anteriormente y nuevo de la sexta temporada)
- Características especiales que llevan al espectador en tours muy personales por Oahu, donde se rodó la serie, con reflexiones del reparto y el equipo.
- Exploración del fenómeno global que es LOST, desde eventos exclusivos con el reparto y el equipo en la famosa Comic-Con de San Diego, hasta doblajes internacionales, eventos locales e incluso fiestas de los fans; los cuales ayudaron a la serie a convertirse en una favorita mundial.
- El reparto, equipo y productores, echan vistazo más de cerca a algunos objetos de atrezzo, comentando su importancia, historias y lazos emocionales con los personajes.
- Un vistazo en clave de humor pero también emotivo a todos los personajes que murieron en la serie.
- 16 divertidos "Slapdowns" en los que aparecen fans famosos de la serie que se enfrentan a los productores Damon Lindelof y Carlton Cuse para preguntarles cosas sobre la última temporada; incluyendo a los Muppets y miembros del reparto Nestor Carbonell, Michael Emerson, Rebecca Mader y más.
El pack exclusivo también incluye un juego de 'Senet', como el que se ve en la sexta temporada, en edición especial; una réplica de la isla de LOST, una guía de episodios exclusiva, un Ankh coleccionable, y una linterna ultravioleta.
Fuente: DarkUFO.