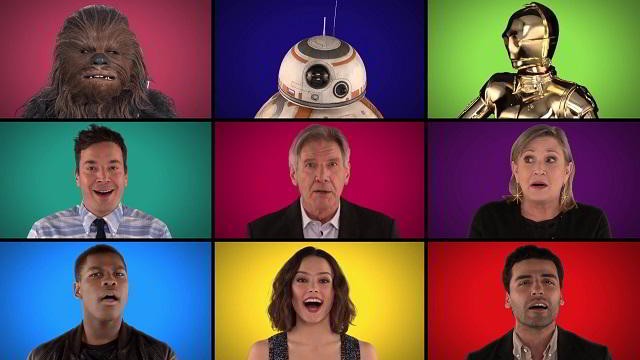 Como siempre Jimmy Fallon nos otorga grandes momentos en su talk show "The Tonight Show", y este Martes 15 se mostró un video musical en el que junto a 'The Roots' y el elenco de Star Wars: The Force Awakens interpretan tarareando un medley con las canciones de Star Wars.

La música de Star Wars es tan característica que puedes no tener idea de las películas, pero sin duda que conoces alguna de sus melodías.
En el video participaron Daisy Ridley, John Boyega, Harrison Ford, Carrie Fisher, Oscar Isaac, Lupita Nyong'o, Gwendoline Christie y Adam Driver, acompañados por el grupo The Roots y por supuesto por Jimmy Fallon.