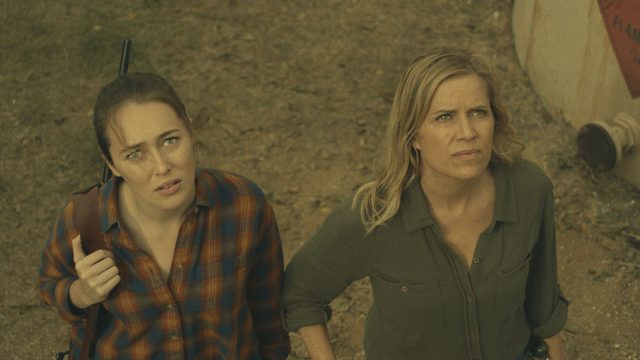 Promos, fotos y sneak peeks de Fear The Walking Dead 4x02 "Another Day in the Diamond", que se estrena el domingo 22 de Abril en AMC.

Sinopsis:
Un aproblemado sobreviviente encuentra aliados en un lugar inesperado; la vida que Madison ha luchado por construir se ve amenazada.
Fear The Walking Dead 4x02 Promo Sub Español

En el próximo episodio de Fear The Walking Dead veremos que pasa después de que Alicia (Alycia Debnam-Carey) junto a Luciana (Danay García), Nick (Frank Dillane) y Strand (Colman Domingo), hayan emboscado en la carretera a Althea (Maggie Grace), Morgan (Lennie James) y John Dorie (Garret Dillahunt).
En una de las escenas vemos que Madison (Kim Dickens) se encuentra con alguien que la apunta con un arma. Madison le confiesa que tiene un lugar "con murallas fuertes, mucha comida, gente buena."
FearTWD 4x02 Sneak Peek #1 Subtitulado en Español

Madison y Alicia exploran un lugar por suministros, pero ya ha sido saqueado.
Encuentran una bandera (similar a la que apareció en el primer capítulo), esta vez con el número 457 escrito en ella.
FearTWD 4x02 Sneak Peek #2 Subtitulado en Español

En este segundo adelanto, Luciana se encuentra vigilando el perímetro, mientras Strand empuja una camioneta averiada hacia el interior de su lugar.
Luciana les dice que dejen la camioneta e ingresen rápidamente. Podemos ver que llegan muchos camiones y comienzan a rodear el lugar donde vive el grupo.
Alicia viene corriendo y les dice que cierren la puerta, y que traigan todas las armas posibles desde la armería.
FearTWD 4x02 Sneak Peek #3

En el lugar donde hay silos, Madison se encuentra con Naomi, que está interpretada por la actriz Jenna Elfman.
Madison le cuenta que tienen un lugar donde viven, con murallas y comida, que son gente buena, pero Naomi no le cree.
Madison le dice que acaban de sumar a su grupo a una niña llamada Charlie, que solía vivir por ahí.
Luego aparece Alicia, y más tarde Strand y Luciana, todos con armas.
Naomi se pone nerviosa y arranca hasta la parte superior de un silo. Alicia baja su arma, pero Naomi retrocede y cae al interior del silo. Por las primeras fotos promocionales de la temporada, sabemos que en el interior de ese silo hay caminantes, y Madison la tratará de ayudar.
Fotos promocionales de Fear The Walking Dead 4x02