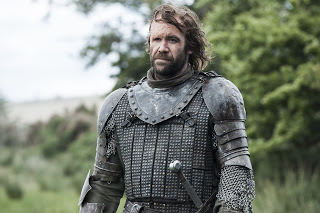 Fotos promocionales en alta calidad (HQ) de Game of Thrones 4x03 "Breaker of Chains" (Rompedora de cadenas), el tercer capítulo de esta cuarta temporada que se estrena el Domingo 20 de Abril en HBO.
A continuación más fotos y la sinopsis del capítulo.

Game of Thrones 4x03 "Breaker of Chains"
Sinopsis: Tyrion reflexiona sobre sus opciones en Desembarco del Rey, su padre, Tywin Lannister (Charles Dance), le ofrece una rama de olivo como muestra de buena voluntad. Sam Tarly (John Bradley) se da cuenta de que el Castillo Negro no es seguro para ellos y Jon Snow le propone un plan.
"El Perro" (Rory McCann) enseña a Arya cómo son las cosas después de los acontecimientos vividos la pasada temporada. Daenerys Targaryen elige a su campeón para enfrentarse con el campeón de Meereen.
Escrito por David Benioff & D. B. Weiss; y dirigido por Alex Graves.