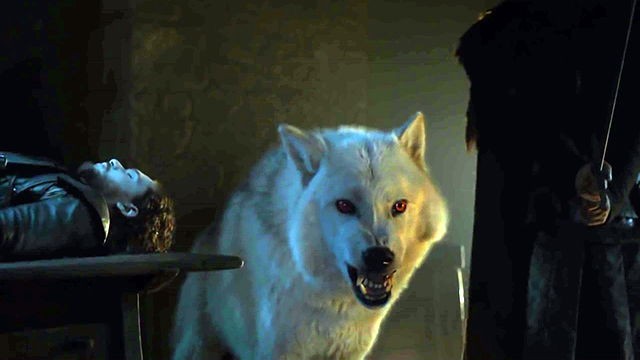 Promos y sneak peeks de Game of Thrones 6x01 "The Red Woman", que se estrena el Domingo 24 de Abril en HBO.

Cada vez falta menos para el estreno del primer capítulo de la sexta temporada de Game of Thrones, y poco a poco van apareciendo nuevas escenas adelanto.
Promo subtitulada
Nueva promo subtitulada (18 de Abril)
Sneak Peek #1: Daenerys y los Dothraki

* Actualizado con una versión extendida.
En esta escena podemos ver a Daenerys (Emilia Clarke) siendo recibida por un Dothraki, quien le dice "Bienvenida a casa, Khaleesi"
Sneak Peek #2: Ser Davos y Ghost protegiendo a Jon Snow

En la escena, podemos ver a Ghost junto al cadáver de Jon Snow (Kit Harington). Ser Davos (Liam Cunningham) se encuentra en la misma habitación junto a otros hombres y les dice que nunca ha luchar no es lo suyo, que lo perdonen por lo que verán.
Al otro lado de la puerta, se encuentran los hombres de la Guardia de la Noche, quienes a la orden de Alliser Thorne (Owen Teale) comienzan a derribar la puerta.
Sneak Peek #3: Sansa & Theon en el bosque
Sneak Peek #4: Sansa & Theon en el rio

Sansa y Theon escapan en medio del bosque nevado, hasta que llegan a un río. Theon le dice a Sansa que deben cruzar, pero Sansa cree que no podrán, que el agua está muy fría y que morirá allí mismo, pero Theon la convence de continuar, ya que deben confundir a los perros que los persiguen. Además, lo que los perros les harían si los alcanzan sería muchísimo peor.
Sneak Peek #5: Arya

Arya se encuentra ciega, sin embargo la chica que trabajaba con ella la incita a luchar.
Sneak Peek #6: Cersei & Jaime

Cersei se encuentra conmocionada con la muerte de Myrcella, y conversa con Jaime.
Sneak Peek #7: Samwell & Gilly

Gilly y Samwell viajan en barco, pero Samwell no se siente muy bien.
Sneak Peek #8: Jaime Lannister & High Sparrow

Jaime Lannister tiene una tensa conversación con el Gorrión Supremo.