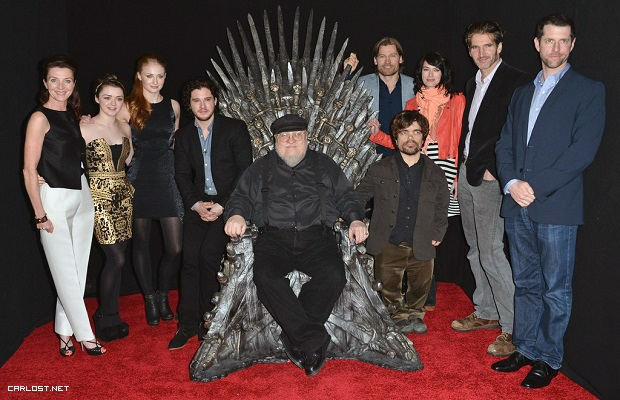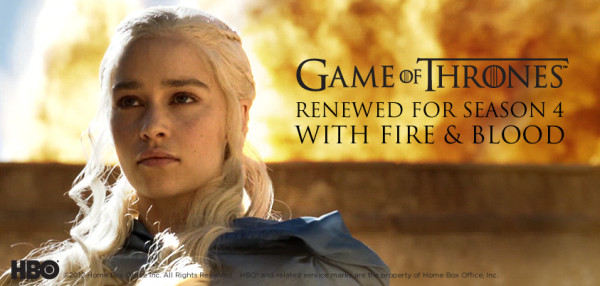 No es para nada sorpresa, pero hace minutos HBO ha anunciado oficialmente a través de un comunicado de prensa la cuarta temporada de Game of Thrones.
El anuncio era esperable. Más aún luego del alto rating obtenido el pasado Domingo, con el estreno de la tercera temporada, que se convirtió en el episodio más visto de toda la serie.
Detalles creativos para la cuarta temporada aún no han sido anunciados, pero se espera que la serie utilice principalmente material de la segunda parte del tercer libro de la saga Canción de Hielo y Fuego de George R.R. Martin: "Tormenta de Espadas", así como también contenido de otras novelas.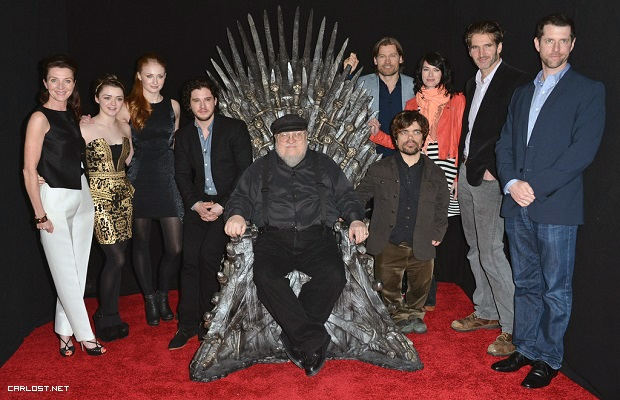 HBO RENEWS GAME OF THRONES FOR FOURTH SEASON

Season Three Soars To Highest Viewership Yet

LOS ANGELES, April 2, 2013 – HBO has renewed GAME OF THRONES for a fourth season, it was announced today by Michael Lombardo, president, HBO Programming.

Based on the bestselling fantasy book series by George R.R. Martin, GAME OF THRONES is an epic story of treachery and nobility set on the continent of Westeros, where summers and winters can last years, and only the lust for power is eternal. The Emmy®- and Golden Globe-winning series launched its ten-episode third season Sunday, March 31 (9:00-10:00 p.m. ET/PT), exclusively on HBO, with other episodes debuting subsequent Sundays at the same time.

Among the early critical praise for the third season, the Hollywood Reporter called GAME OF THRONES "addictive and outstanding," while Newsday termed the series "superb," awarding the show an A+. The Chicago Tribune hailed the show as "spellbinding" and the Washington Post described it as "masterful."

According to early data, GAME OF THRONES' season three premiere March 31 on HBO topped the series' highs, with record viewership for both the 9:00 p.m. (ET/PT) airing and gross audience across the three plays. At 9:00 p.m., it averaged 4.4 million viewers, outperforming (+4%) the previous high of 4.2 million viewers from last season's finale. GAMES OF THRONES improved 13% in comparison to last season's premiere of 3.9 million viewers. Across the three plays for the night, 6.7 million viewers tuned in, surpassing last season's debut night of 6.3 million viewers by 7%. Last season, GAME OF THRONES had an average gross audience (HBO linear plays + HBO On Demand/HBO GO + DVR) of 11.6 million viewers.

For more on the series, visit facebook.com/GameOfThrones and twitter.com @GameOfThrones #GameOfThrones.

Season three credits: The executive producers of GAME OF THRONES are David Benioff, D.B. Weiss, Carolyn Strauss, Frank Doelger, Bernadette Caulfield; co-executive producers, Guymon Casady, Vince Gerardis, George R.R. Martin, Vanessa Taylor; produced by Chris Newman, Greg Spence.
Via: EW & TvByTheNumbers