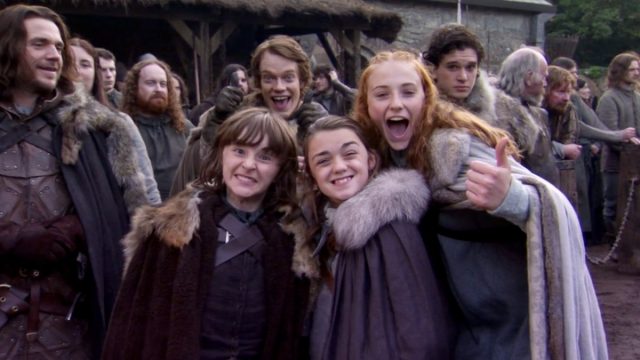 Entrevistas subtituladas al elenco de Game of Thrones (Juego de Tronos), recordando su participación en la serie.
En esta serie de entrevistas, del especial titulado "The Cast Remembers" (El Elenco recuerda), los protagonistas hablan de sus recuerdos siendo parte de una de las series más exitosas de la historia.

La nostalgia de la primera escena que grabaron, los lazos que formaron con otros miembros del elenco, sus escenas favoritas, sus lugares de filmación predilectos, lo bueno y lo malo que les trajo ser parte de una serie tan popular, qué extrañarán y mucho más.
A continuación los videos del especial "Game of Thrones: El elenco recuerda" con subtítulos en español:
Kit Harington (Jon Snow)
Para Kit Harington fue mucho más significativa su participación, ya que en la serie conoció a Rose Leslie, quien interpretaba a Ygritte, y que actualmente es su esposa en la vida real.


Peter Dinklage (Tyrion Lannister)
Peter Dinklage estaba un poco reacio a aceptar el rol en un comienzo, ya que al ser una serie de fantasía, pensó que su personaje sería poco real, pero resultó ser todo lo contrario.
Lena Headey (Cersei Lannister)
Su incorporación a la serie pudo haber sido otro trabajo que no prospera, pero Lena Headey lo aprovechó al máximo, y resultó ser parte de un proyecto durante 8 años.
Sophie Turner (Sansa Stark)
Sophie Turner considera a sus compañeros de elenco una familia, ya que creció y cambió mucho como persona gracias a ellos.

Su día favorito en el set fue el reencuentro entre Arya y Sansa, ya que fue el día de filmación más divertido y difícil, ya que no podían mantener la compostura.
Rory McCann (The Hound)
Rory McCann recordará esto como el mejor trabajo de su vida.
Pese a que se considera un tipo grande y duro, y que hay mucho de él en el personaje de El Perro, reconoce que lloró cuando vio el episodio de la Boda Roja.
Maisie Williams (Arya Stark)
Maisie Williams confiesa: "Todavía estoy haciendo el duelo por ella. No podemos hablar de eso, voy a llorar"
Emilia Clarke (Daenerys Targaryen)
Cuando comenzó en esto, Emilia Clarke tenía 22 años, y hoy tras 8 años de haber interpretado a Daenerys Targaryen puede sentir cómo ha crecido como actriz.
"Daenerys muestra la complejidad de mi vida adulta. En cada escena importante de Daenerys, está cada escena importante de mi vida" reconoce Emilia.
Nikolaj Coster-Waldau (Jaime Lannister)
Nikolaj Coster-Waldau revela entre otras cosas que la escena entre Jaime y Cersei en la torre tuvo 3 diferentes versiones, cada una con diferentes niveles de desnudez, pero finalmente se quedaron con la opción con más ropa.
Liam Cunningham (Davos Seaworth)
Liam Cunningham recuerda la especial relación entre Davos y Shireen Baratheon, o la escena más extraña que le tocó filmar, cuando Melissandre dio a luz a un bebé de las sombras.
Iain Glen (Jorah Mormont)
Para Iain Glen, su escena favorita fue cuando estuvo en Osuna, España filmando las escenas de los gladiadores, ya que estuvo acompañado de su pequeña hija, quien lo vió actuar, e incluso fue la encargada de dar por iniciada la escena diciendo '¡acción!'.
Isaac Hempstead-Wright (Bran Stark)
Isaac recuerda su primer día en el set como un día muy lluvioso, en el que estaba acompañado de su madre. Al final del día no estaba seguro de si podría seguir en la serie, ya que encontraba que todo era lluvia y estrés, pero al día siguiente se despejó y todo mejoró.
La octava y última temporada de Game of Thrones tendrá 6 episodios, y el episodio 8x01 se estrena el domingo 14 de abril de 2019 en HBO.