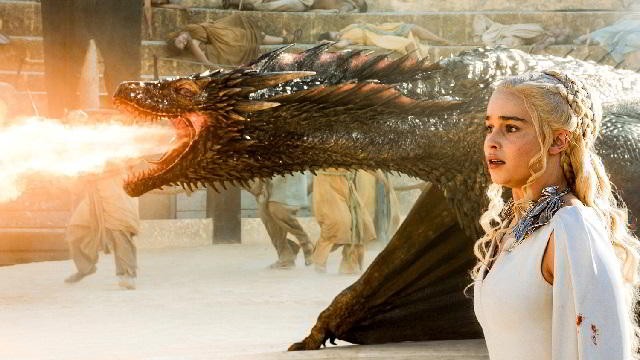 Al parecer tendremos Game of Thrones para un par de años más, ya que HBO estaría en negociaciones para renovar la serie por dos temporadas más, extendiendo así la serie hasta el 2018.
La noticia surge a que el presidente de Programación de HBO, Michael Lombardo, reveló a algunos periodistas este Jueves, durante el tour de prensa de invierno de la Asociación de Críticos de Televisión (TCA), que HBO está cerca de firmar un acuerdo para renovar por dos temporadas más el drama basado en los libros de George R. R. Martin.
Si las negociaciones andan bien, la renovación sería por una séptima y octava temporada, y sería la segunda vez que Game of Thrones obtiene una renovación para dos temporadas más en un solo anuncio, ya que HBO ya había renovado en el 2014 la serie para las temporadas 5 y 6.
La noticia de posible renovación llega horas después de que HBO ha confirmado que la sexta temporada se estrenará el Domingo 24 de Abril de 2016.
Se espera que un anuncio formal suceda pronto, mientras que no está claro aún si la temporada 7 u 8 serían las últimas de la serie.
The Hollywood Reporter informa también que en Octubre de 2014 los actores firmaron contratos por una séptima temporada (que públicamente no se ha oficializado aún), con considerables aumentos de sueldo.
Los principales actores de Game of Thrones sólo tenían acuerdo por seis temporadas en la serie. Es por eso que HBO, aumentó su oferta para la quinta y sexta temporada, además de la posible séptima temporada, lo que convertiría a los miembros del elenco en los actores mejor pagados de la televisión por cable.
Un representante de HBO declinó hacer comentarios de la renegociación o de la opción de una séptima temporada.
Game of Thrones es en estos momentos la serie de HBO más vista en la historia, y también la producción que más tiempo lleva al aire.
Otro récord que alcanzó también en el 2015, es que Game of Thrones se convirtió en la serie más pirateada, por cuarto año consecutivo.
La sexta temporada de Game of Thrones será la primera entrega de la serie que incluirá acontecimientos que aún no son relatados en la saga 'Canción de Hielo y Fuego', de George R. R. Martin, quien recientemente reveló que no tendrá lista el sexto libro 'Vientos de Invierno' antes del regreso dela sexta temporada de la serie.
Para HBO, asegurar el futuro de Game of Thrones es una prioridad clave.
El canal también tiene próximo a estrenar el drama musical Vinyl, el 14 de Febrero, mientras que más adelante en el año estrenará el drama de fantasía Westworld, de Warner Bros. Television y la tercera y última temporada de The Leftovers.
Aún no está claro si True Detective tendrá una tercera temporada.