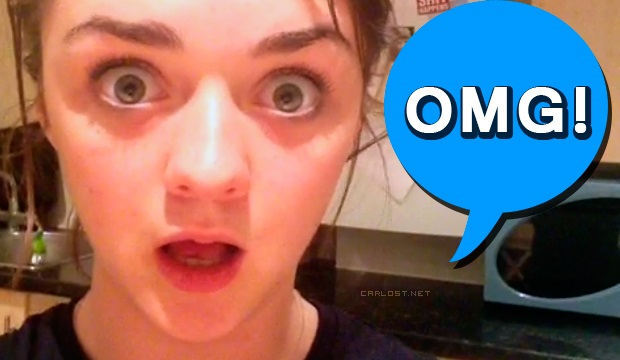 Luego del capítulo del Domingo pasado de Game of Thrones, 3x09 "The Rains of Castamere", internet se repletó de reacciones tras ver lo sucedido en la Boda Roja.
A continuación una recopilación de las mejores reacciones, incluyendo a la propia Maisie Williams (Arya Stark en la serie)
Si aún no has visto el capítulo, contiene ¡SPOILERS!.
Sin duda el reciente capitulo de Game of Thrones tuvo una de las escenas más impactantes de la serie, 'La Boda Roja', la sangrienta escena en donde vemos la muerte de Robb Stark, su esposa Talisa y su madre Catelyn, a manos de los soldados de Walder Frey, y posteriormente la muerte de Viento Gris ante los ojos de Arya.
Maisie Williams, la actriz de 16 años que interpreta a Arya Stark en la serie publicó a través de su cuenta en Vine, un video con su reacción post-episodio.

Maisie Williams: "They dead, like so dead, like OMG dead: My mother, and brother are dead,"
Norman Reedus, que por estos días se encuentra grabando la cuarta temporada de The Walking Dead, también es un seguidor de la serie de HBO, y en twitter compartió sus impresiones luego del capítulo:

game of thrones I caught up why u gotta kill off the wolves !!??dragon lady burn those lions up!!!!
— norman reedus (@wwwbigbaldhead) 5 de junio de 2013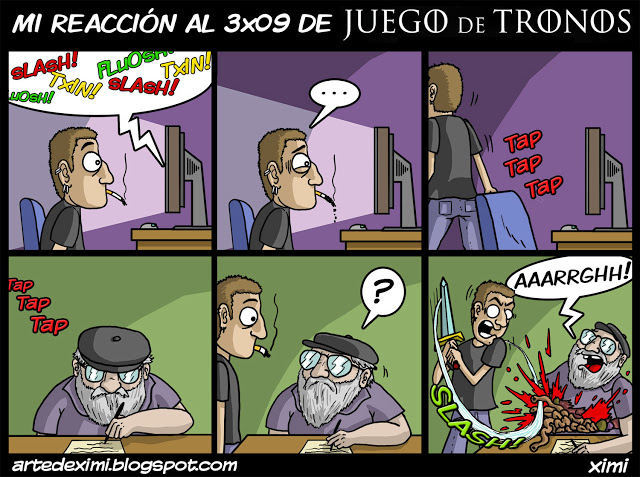 Via: Arte de Ximi
En Youtube, varios usuarios que ya habían leído los libros y sabían lo que pasaría, grabaron a sus amigos mientras veían la escena de la Boda Roja, y este fue el resultado:

George R. R. Martin estuvo invitado al programa de Conan O'Brien, en donde tuvo la oportunidad de ver estas reacciones:

Y por supuesto, no podía faltar el típico video de Hitler, esta vez enterándose de lo sucedido en la Boda Roja:

¿Y tú? ¿Cómo te sentiste luego de ver el capítulo? Deja un comentario con tus impresiones.