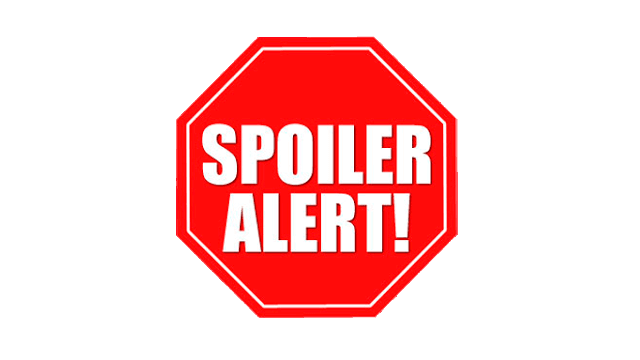 Ya puedes ver los spoilers del próximo episodio de The Walking Dead 8x15 "Worth", que se estrena el Domingo 8 de Abril en AMC y FOX Series, y el Lunes 9 de Abril en canal FOX (Latinoamérica / España).

Si no quieres saber qué pasará en el episodio, entonces no sigas leyendo.
Spoilers The Walking Dead 8x15 "Worth"
* Recuerden ser respetuosos con aquellos que no quieren saber lo que pasará, y no anden copiando y pegando el texto en cualquier lado. Si alguien quiere enterarse entrará acá a leerlo, sabiendo a lo que viene.
Para este episodio y para el próximo, TSDF no publicará spoilers, pero de todas formas he podido conseguir algunos.
Recuerden que pueden pasar a ver acá más escenas subtituladas del episodio y la promo oficial.
TWD 8x15 Sub Español: Primeros minutos del episodio
Este es el penúltimo episodio de la temporada y dura 51 minutos.
En este episodio veremos a Rick por fin leer la carta que le escribió Carl. Recordemos que en el episodio 8x14 Rick le confesó a Michonne que aún no había leído la carta porque no se atrevía.
La última escena del episodio 8x14 fue Negan camino al Santuario en un vehículo, y se detiene en la carretera para llevar a alguien que él conoce
¿Quién se sube al auto de Negan?
La persona que se sube al auto de Negan es Laura. Si no recuerdan mucho de quien se trata, es la integrante de los Salvadores que se encontraba junto a Dwight cuando fueron emboscados en la carretera por Rosita, Daryl, Tara y Michonne en el episodio 8x08.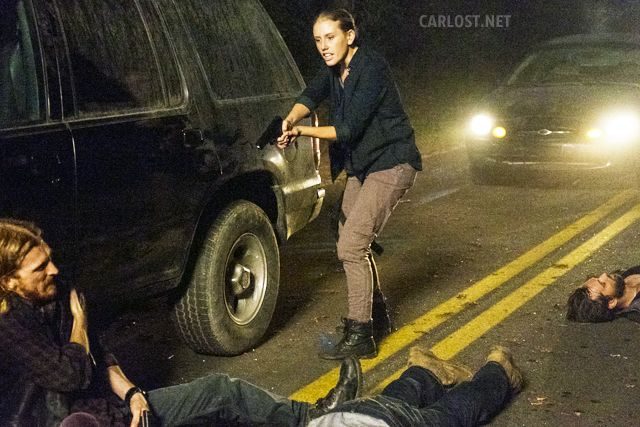 En ese momento Dwight mató a algunos Salvadores ya que la emboscada era algo planeado con el grupo de Daryl, y Laura fue testigo de que Dwight era el traicionero del grupo.
Laura era la única sobreviviente y enfrentó a Dwight, le disparó en el brazo y tuvo que salir huyendo para evitar los disparos que seguían realizando Rosita y el resto.
En el episodio 8x15, Laura regresará con Negan al Santuario y encarará a Dwight, tal como lo podemos ver en esta imagen filtrada: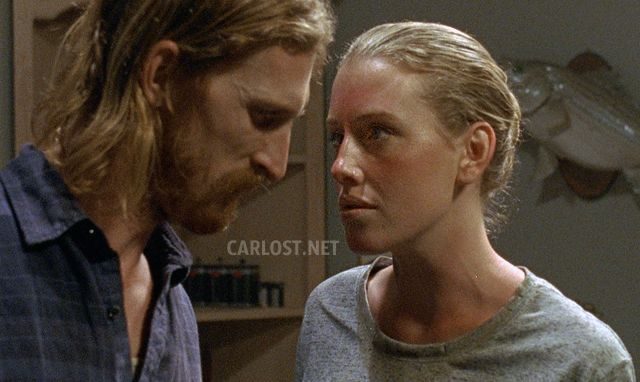 Pero Dwight no es el único traicionero en el grupo, ya que Simon ha estado contradiciendo las órdenes de Negan ultimamente, y cuando Negan se encontró con Jadis se enteró que a pesar de que le dijo que matara solo a un integrante del grupo de Jadis, Simon los había matado a todos. Además esta no era la primera vez, ya que Simon había sido el que mató a todos los hombres de Oceanside.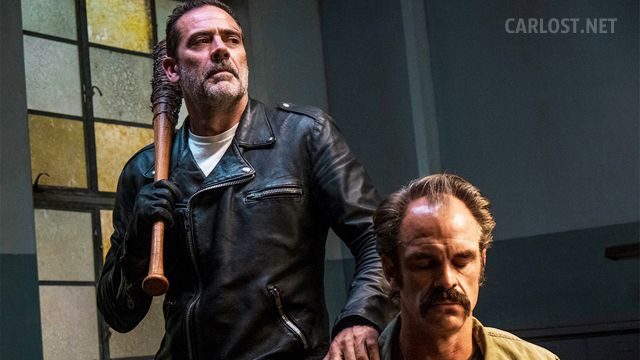 En este episodio, Negan demostrará que nadie desobedece sus órdenes, pero de todas formas le dará una oportunidad de salvarse a Simon.
Negan le ofrece una lucha a muerte (sin armas) para determinar quién liderará a los Salvadores.
Simon acepta, y pese a que en un momento parece ir ganando, Negan termina matando a Simon con sus propias manos.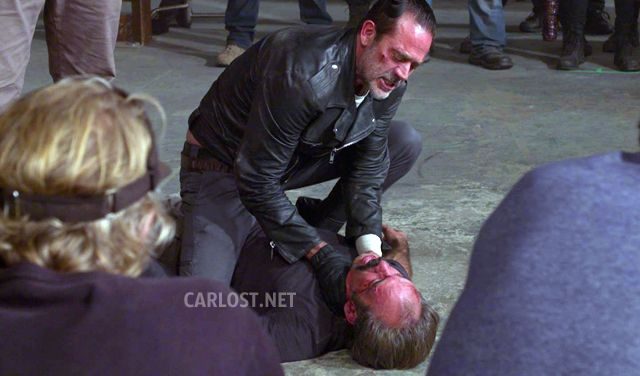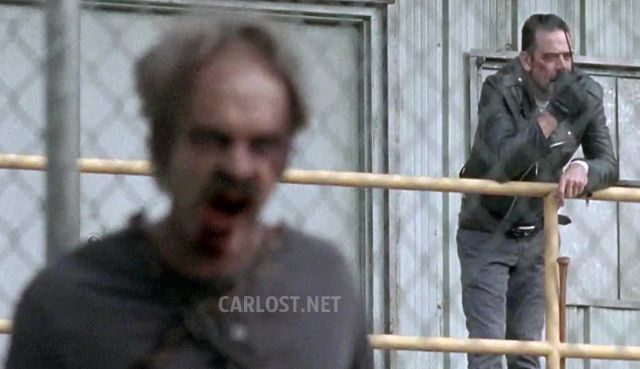 ¿Y qué pasará con el ataque a Hilltop?
Lo que yo creo, es que con el regreso de Laura, Negan ahora sabrá que Dwight era el infiltrado, pero fingirá que no sabe nada, e incluso lo invitará a la reunión para planear un nuevo ataque contra Hilltop (con la intención de que Dwight filtre esta información errónea).
En la promo se puede ver que Dwight escribe en un mapa indicaciones para Rick y su grupo, mencionando cuál es el plan de Negan.
De esta manera, Negan dejaría que Dwight le haga llegar esta información filtrada a Hilltop y luego lo podría retener como prisionero, para así tener la ventaja y atacarlos de otra forma.
Recuerden que el día domingo en la noche, dejo el capítulo para ver online subtitulado en español en Facebook (Carlost.net), así que pasen por ahí, y activen las notificaciones para recibir el episodio apenas lo publique.