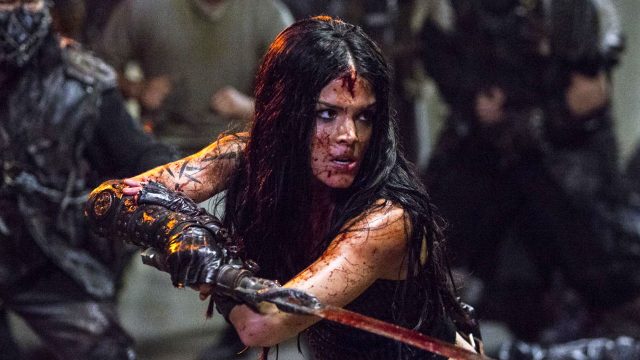 Ya podemos ve la promo subtitulada, imágenes promocionales y la sinopsis de The 100 5x02 "Red Queen" (Reina Roja), que se estrena el martes 1 de Mayo en The CW.

Sinopsis - The 100 5x02
Octavia (Marie Avgeropoulos) se ve obligada a recibir asesoramiento de un inesperado aliado cuando el futuro del bunker y todos quienes se encuentran adentro se vea amenazado.
Actúan también: Eliza Taylor, Bob Morley, Paige Turco, Henry Ian Cusick, Lindsey Morgan, Richard Harmon, Chris Larkin y Tasya Teles.
El episodio está dirigido por P.J. Pesce, y escrito por Terri Hughes Burton.
The 100 5x02 Promo Sub Español

En la promo del próximo episodio, vemos a Thelonious decir que ya que hay mucha gente en el búnker, van a tener que considerar la reducción de población.
Mientras tanto, Octavia les dice:"Ustedes son Wonkru, o son enemigos de Wonkru. Elijan"
The 100 5x02 Sneak Peek Subtitulado en Español

En esta escena, vemos a Abby y Marcus preparándose para salir del búnker. Marcus le dice a Abby, que no tenga muchas esperanzas ya que Clarke seguramente se fue al espacio con el resto del grupo.
Abby intenta abrir por primera vez la puerta que da acceso al búnker, pero algo anda mal, no se abre. Le pide ayuda a Marcus pero entre los dos tampoco pueden abrirla.
Abby se desespera ya que quiere salir para encontrar a Clarke. Marcus le dice que seguramente el edificio colapsó sobre ellos. Eso significa que Clarke no podrá entrar, y que ellos no podrán salir.
Fotos promocionales The 100 5x02 "Red Queen"
Por el momento son solo 3 imágenes promocionales, pero si surgen más, las iré agregando acá.