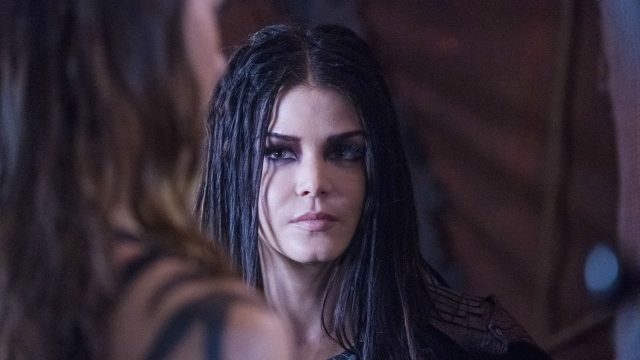 Promo subtitulada en español, sneak peek, imágenes promocionales y sinopsis de The 100 5x06 "Exit Wounds", que se estrena el martes 5 de Junio en The CW.

Sinopsis - The 100 5x06 "Exit Wounds"
AMENAZAS - El intento de Kane (Henry Ian Cusick) de probarse a sí mismo prueba la lealtad de Wonkru a Octavia (Marie Avgeropoulos). Madi (interpretada por Lola Flannery "Shadowhunters", "Home Again") se enfrenta a una amenaza inesperada dentro de Wonkru, obligando a Clarke (Eliza Taylor) a formar un aliado poco probable.
Actúan también: Bob Morley, Paige Turco, Lindsey Morgan, Richard Harmon, Chris Larkin y Tasya Teles.
El episodio está dirigido por Michael Blundell, y escrito por Drew Lindo.
The 100 5x06 Promo Sub Español

En este episodio tendrá bastante protagonismo Octavia, la Blodreina (Red Queen) de Wonkru.
El texto que acompaña a la promo es: "Desafía a la reina y paga el precio".
Por lo que podemos ver en el adelanto, la coronel Diyoza envía alimentos y ofrece la paz, pero Echo le comenta a Bellamy que en realidad lo que debe estar planeando es reclutar gente.
Y al parecer algunos intentarán cambiase de bando, ya que vemos a Octavia decir: "Disparen a cualquiera que intente irse".
Bellamy se reúne con Octavia y le dice que ella "Asesinó a su propia gente", pero Octavia lo corrige y le dice: "Ejecuté a los traidores".
Para echarle más leña al fuego, Echo le dice a Octavia: "sólo un tonto pelea una guerra que no puede ganar".
Si Octavia ya la odiaba por estar con su hermano, ahora de seguro la odia más.
The 100 5x06 Sneak Peek Subtitulado en Español
The 100 5x06 Sneak Peek #2 Subtitulado en Español
The 100 5x06 Sneak Peek #3 Subtitulado en Español
Fotos promocionales The 100 5x06 "Exit Wounds"