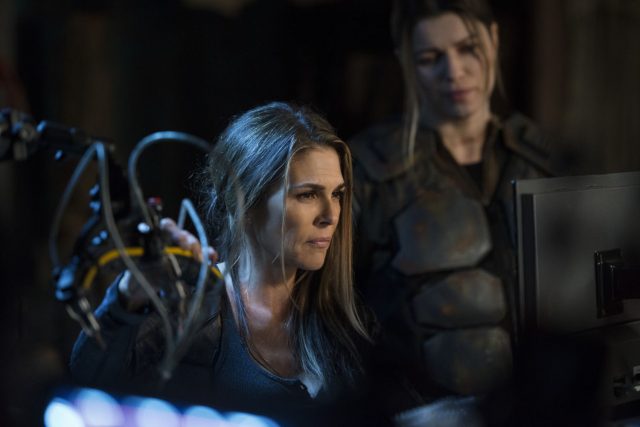 Promo subtitulada en español, sneak peeks, imágenes promocionales y sinopsis de The 100 5x09 "Sic Semper Tyrannis", que se estrena el martes 10 de Julio en The CW.

Nuevamente tenemos un parón en la emisión de los episodios de The 100 🙁
Luego del final del episodio 5x08 en el que nos mostraron cómo Bellamy se 'hace cargo' de Octavia para impedir la guerra entre Wonkru y el grupo de Diyoza, tendremos que esperar 2 semanas para ver cómo continúa todo.
Sinopsis - The 100 5x09 "Sic Semper Tyrannis"
FUEGO - Las crecientes fracturas en Wonkru amenazan con explotar de una vez por todas. Mientras tanto, en Shadow Valley, Murphy (Richard Harmon) comienza un incendio, desencadenando resultados catastróficos.
Actúan también: Eliza Taylor, Bob Morley, Paige Turco, Henry Ian Cusick, Marie Avgeropoulos, Lindsey Morgan, Chris Larkin y Tasya Teles.
El episodio está dirigido por Ian Samoil y escrito por Miranda Kwok.
The 100 5x09 Promo Sub Español
"Estas pueden ser sus últimas horas" dice Indra, mientras vemos a Octavia en su cama, luego de haber quedado en coma por comer las algas que hizo Monty.
Mientras tanto, Bellamy planea algo para rescatar a sus amigos de Diyoza.
Como rehén aún, Raven pregunta: ¿Quieres debilitar al enemigo? ¿Qué es más débil que un enemigo en guerra consigo mismo?, mientras vemos escenas de una gran pelea en el campamento de Diyoza.
También vemos una escena de Gaia sosteniendo la llama. Ahora que Octavia está inhabilitada (aunque no sabemos si Gaia sabe que es temporal), ¿Madi será su sucesora?
Fotos promocionales The 100 5x09 "Sic Semper Tyrannis"