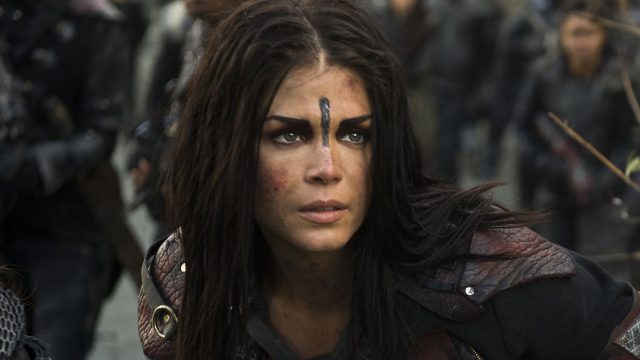 Promo subtitulada en español, imágenes promocionales y sinopsis de The 100 5x13 "Damocles", la segunda y última parte del final de temporada que se estrena el martes 7 de Agosto en The CW.

Sinopsis - The 100 5x13 "Damocles"
FINAL DE TEMPORADA, PARTE 2 - En la segunda parte del final de la quinta temporada, Clarke (Eliza Taylor) y sus amigos deben arriesgar todo para pelear una última batalla por la supervivencia, solo para vislumbrar una amenaza aún más oscura para el último valle viviente en la tierra.
Actúan también Bob Morley, Paige Turco, Henry Ian Cusick, Marie Avgeropoulos, Lindsey Morgan, Richard Harmon, Chris Larkin y Tasya Teles.
El episodio está dirigido por Dean White y escrito por Jason Rothenberg.
The 100 5x13 Season Finale Promo Sub Español
En la promo vemos a McCreary (William Miller) decir: "si yo no puedo tener este valle... nadie puede", mientras se dispone a disparar un misil.
Clarke les dice a todos que entren a la nave, pero al parecer no todos lograrán sobrevivir.
Bellamy dice que no abandonará a sus amigos, mientras vemos a Murphy decir que no hay suficiente tiempo.
The 100 5x13 Season Finale - Sneak Peek #1 Sub Español

En esta escena vemos a McCreary torturar a Shaw, sacándole los dientes, para que pilotee la nave, mientras Raven se encuentra retenida, recibiendo descargas eléctricas.
Por radio le avisan que el ejército enemigo se acerca por el barranco, por lo que McCreary amenaza a Shaw con cortarle las piernas para que dispare los misiles en contra del ejército.
Cuando está a punto de cortarle las piernas, Raven le dice que se detenga, que ella piloteará la nave.
"Si no estamos en el aire en dos minutos, el pierde la pierna" la amenaza McCreary.
The 100 5x13 Season Finale - Sneak Peek #2 Sub Español

Acá podemos ver a Monty y Harper que piensan que deben salir del campamento, ya que sin comida ni agua no lograran sobrevivir, pero Miller les dice que nadie va a querer seguirlo hacia el barranco luego de la masacre que acaba de ocurrir.
Bellamy, Octavia, Indra logran llegar al campamento con Gaia herida, que necesita atención médica urgente.
The 100 5x13 Season Finale - Sneak Peek #3 Sub Español
Clarke se reúne con Diyoza, para que la ayude a llegar a McCreary, e impedir el despegue de la nave.
The 100 5x13 Season Finale - Inside Subtitulado
Fotos promocionales The 100 5x13 "Damocles" (Final de Temporada - Parte 2)